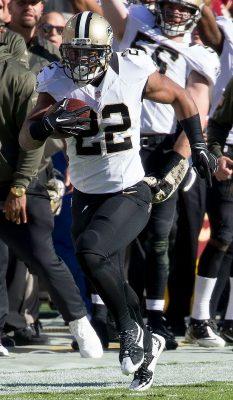 Jordan Howard
If you're a Jordan Howard owner like me, few things were more frustrating than watching Tarik Cohen boom for 23.4 points while Howard totaled just 11 carries for 25 yards. Perhaps the most frustrating part of this was that Cohen simply looked like a better player.
The supposed "backup" notched 13 carries for 53 yards while catching seven of eight targets for a whopping 121 yards and a touchdown. Cohen is more agile than Howard, but it is clear that even despite this game, Howard is better between the trenches. Unfortunately, for the once-thought-of-workhorse, Mitch Trubisky's talent actually hampered Howard.
As we saw in Week 4, playing in the air supremely benefited the Chicago Bears, which is something that must be kept in mind going forward. For the former Indiana University Hoosier, Howard's floor still seems to be in the low-end RB2 range considering the high-powered offense and likely touches at the goal line.
Regardless, Howard isn't even close to as good as I would have expected and warrants low-end RB2 consideration moving forward due to the arrival of Tarik Cohen and Matt Nagy's desire to run the offense through Trubisky, rather than on the ground.
Mark Ingram
Now, this is obviously hard to gauge considering the former Heisman winner hasn't played a game yet this season, but it is clear who is the better running back in the New Orleans Saints' duo.
Last year, Mark Ingram and Alvin Kamara were perhaps the best running back tandem in NFL history. However, Kamara has proven himself to be perhaps the best running back in the NFL. Yes, Todd Gurley exists, but guess what? Kamara is simply that good.
The only reason the Saints have to limit Kamara is to save him for the playoffs. Kamara has proven to be a great goal line back, incredible pass catcher and shifty and agile between and around the tackles. Sure, Ingram is good at all these things too, but not as good as the former University of Tennessee Volunteer.
Ingram is really best to be viewed as a middle tier RB2/strong FLEX play heading into Week 5 against the Washington Redskins. Luckily for Ingram owners, he does have his bye the following week where he could re-establish a rapport in a full week of practice with no game, but I'm still holding out on Ingram matching what he did last year due to the MVP numbers Kamara has put up thus far.
It is quite odd to temper expectations from a two-time 1,000 yard rusher who looked as good as almost anyone in the league, but that mostly shows Kamara's outlandish dominance.
Royce Freeman
This may come as the biggest surprise. Royce Freeman isn't on this list because he isn't effective, but rather because he — like the other two players mentioned — has severe competition standing in his way.
While Freeman has scored a touchdown in his last three weeks and is averaging five yards per carry, Phillip Lindsay is a far better overall talent (thus far). Freeman has one catch in four weeks, whereas Lindsay (and for some reason Devontae Booker) are the passing backs in a pretty good offense.
Also worth noting, Lindsay scored a goal line touchdown and had more carries than Freeman. The way the Denver Broncos play benefits the receiving back, and moving forward, I am a bit skeptical about Freeman's production in the later parts of the season.
It is tough to look down on someone who has exceeded expectations, but this is a crowded situation. As the year continues, I would not have a problem looking at Freeman as a low-end RB2 in standard leagues, but in half PPR and especially PPR he warrants FLEX consideration only. Unfortunately, the Broncos have excelled in this format and will continue to do so.