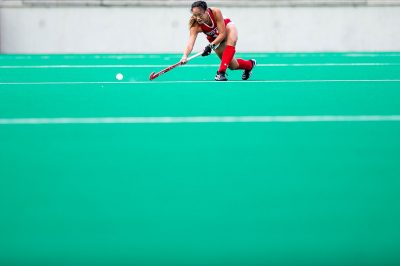 The Boston University athletic department hosted its first Pride Week in support of the LBGTQA+ community Sept. 22–29, with features ranging from rainbow-themed handouts at three athletic events to an online campaign promoting inclusion and acceptance.
In the 2018 spring semester, BU Athletics hosted a talk by Hudson Taylor, a former Division I wrestler and the founder of Athlete Ally.
Athlete Ally promotes athlete activism, education and policy to ensure athletic environments are inclusive to all genders and sexual orientations.
Kelly Park, a junior forward on the BU women's soccer team, was a founding member of the Terriers' chapter of Athlete Ally and said she was motivated to ensure all student athletes felt welcome on campus.
"My favorite part about being at BU is how tight-knit the athletics community is," Park said. "When I heard the speaker and realized there were people who didn't feel the way I felt about how incluse and welcoming it is, I wanted to be someone who was a part of changing that."
The student-led group was founded by then-senior rower Logan Carter, before men's track and field senior Johnny Kemps took the helm as president.
Kemps first arrived in the Greater Boston area to run for Boston College in his freshman year before transferring to BU before his sophomore season for reasons he described to Outsports that were "heavily athletic related."
One of Athlete Ally's tools, the Athletic Equality Index, was designed to help determine the inclusiveness of NCAA programs.
BC received one of the worst AEI scores among Power 5 conference schools, second only to Baylor University.
Baylor — a large Baptist university based out of Waco, Texas, — condemns "homosexual behavior" as "contrary to biblical teaching," and discourages its students from participating in LGBT advocacy groups.
A Catholic and Jesuit college itself, BC hosts on-campus LGBT programs and resources and lists sexual orientation in its nondiscrimination policy, but has failed to extend a code of conduct to its fans, align with the NCAA's policy for transgender inclusion or further create an LGBT-positive relationship with its campus.
Kemps spoke to team functioning at a higher level when its members can be open and honest with each other.
"Since coming out and now being an out LGBT athlete here at BU, I've found not only acceptance, but also a team that performs best together," Kemps said in a BU Athletics video. "We all know each other, we all love each other, and that's how amazing things happen."
Park and Kemps were two of 18 student athletes who participated in the campaign, along with field hockey senior goalkeeper Kathleen Keegan.
Field hockey's Sept. 22 win against Colgate University was the opening event of Pride Week, where free, Pride-themed pins and stickers were available.
Players also sported rainbow paint on their faces and legs.
During the match, Keegan earned her first collegiate shutout in her first game after being named Patriot League Goalkeeper of the Week for having a nine-save series the weekend before.
Keegan, who identifies as gay, founded Questrom Spectrum, a student organization meant to unify LGBT individuals and allies within the business world.
The team's captains, senior fullbacks Ally Hammel and Allie Doggett, also participated in the campaign, and Keegan said in her clip that she felt supported in her time at BU.
"Everybody from the staff and my coaches and my teammates are all super accepting of who I am," Keegan said. "I think everybody who knows me knows that I'm very open about being gay, it's something I'm really proud of, and I try to portray it in a really positive way."
BU Athletics posted a series of videos, images and tweets from its organization throughout the week.
When the Terrier men's and women's soccer teams took to Nickerson Field the following weekend, the videos were shown on the Jumbotron during intermission.
The event followed closely after the United Soccer Coaches' second annual Play with Pride event, which supplied the rainbow laces freshman midfielder Taylor Kofton had in her boots during her first two goals as a Terrier.
BU women's soccer head coach Nancy Feldman spoke positively of her team's involvement with the event and the message it is intended to send.
"I think [inclusion] is something BU has really focused on and that we as a team have in our mentalities," Feldman said. "You don't necessarily have to be best friends with everyone, but you have to respect them and work together."