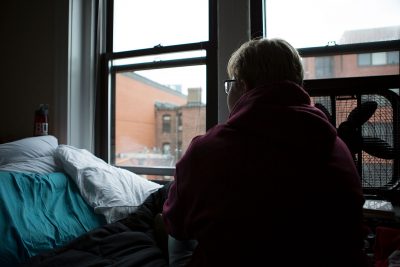 DISCLAIMER: Lillian Ilsley-Greene is a campus organizer for Yes on Three, a ballot initiative to prohibit gender identity-based discrimination in public places.
The start of the semester floor meeting is a familiar ritual to Boston University's undergraduate student population. An opportunity to meet housemates and resident assistants, the hour usually carries little consequence. However, this was not the case for BU student Jake S. this fall.
Labor Day 2018, a day before the fall semester was set to begin, Jake S., who asked that his last name be omitted for safety reasons, said he walked into his South Campus dorm meeting to find he was the only man.
Jake is a sophomore in the College of Arts and Sciences and a transgender man. While moving in, he said, he noticed all of his immediate roommates were women, but he did not realize he was in a primarily female dorm until his first floor meeting.
"I looked around and I was like, 'I am the only man here,'" Jake said. "And that kind of sucked. I have no problem with living around women, it doesn't cause me dysphoria, but for some trans people it does. And the fact that this oversight happened was like, just an incredible insult."
Jake had first planned to live with a friend in a gender-neutral triple at 575 Commonwealth Ave., known to students as HoJo, he said. When this fell through over the summer, Jake emailed BU Housing explaining his situation and saying he would be comfortable living in gender-neutral housing or a single. Within an hour, BU Housing had assigned him a single in South Campus, he said.
Jake has been impressed with BU's administrative response to his placement in a primarily female dorm, he said. Within a day of notifying Dean of Students Kenneth Elmore, he had a meeting with the dean to discuss possible next steps in rectifying the situation.
"I cannot emphasize enough how willing to accommodate Dean Elmore was," Jake said.
BU was aware of Jake's status as a transgender man when placing him in his housing, Jake said. He is going through the official steps to change the name on his Terrier Card to the name he uses. He has started hormone treatment. But he does not, as he specified in his communication with BU Housing, feel comfortable living in a majority-male dorm, he said.
"BU's policies could do with a lot of updating," Jake said. "There's ways that this could have been avoided in the first place, and there are ways that other things could be updated to make trans people feel safe and comfortable."
Officially, BU has only one single-gender housing space, BU spokesperson Colin Riley said, which is the women-only Harriet E. Richards Cooperative House on Bay State Road. Riley said majority-male and majority-female residences are not designed to be single-gender and merely result that way.
BU Housing, Dean of Students Kenneth Elmore and the BU Title IX Coordinator all referred The Daily Free Press to Riley or declined requests for more information when asked for comment.
As the policy stands, gender-neutral housing is only available to upperclassmen, meaning freshmen are not eligible to be included. A limited number of beds are available, Jake said.
Large dorms with shared community bathrooms including Rich Hall, Sleeper Hall, Warren Towers, the Towers, along with any specialty housing, are not eligible to become gender-neutral spaces, according to BU Housing policy.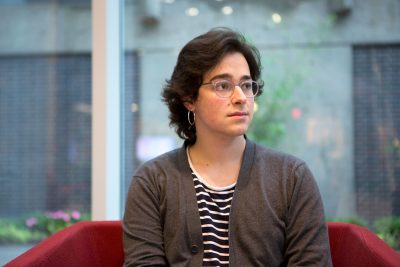 These policies make even finding a place to live on campus difficult for transgender students like themself, CAS senior Sterling Gingerich said.
"Gender-neutral housing is really difficult to get, and it's still pretty bad," Gingerich said. "… They give you like seven days to fill the spot if someone leaves, and if you don't fill it, then they'll dissolve the space and make it single-gender, which is not ideal because I don't want to be forced to live with random men since I'm not a man."
Riley said he disagreed that gender-neutral housing policies were difficult to understand.
"[The policy] really isn't [complex], it's just that there's an obligation on the agreement that the people who live there, if they change rooms, that they fill the unit," Riley said.
When coming out as transgender at BU, Gingerich was in a living situation with a man, they said. When their roommate noticed them beginning to use makeup, he became aggressive, Gingerich said.
"He would growl at me when I tried to talk to him," Gingerich said.
Gingerich said they ultimately turned to Disability Services for help after finding their RA unresponsive. Disability Services moved them into another majority-male dorm.
BU has been unresponsive to certain issues, Gingerich said. They do not feel supported by the administration, they said.
"I wasn't out to myself when I decided to come to BU," Gingerich said. "I think if I was, I wouldn't have decided to come here."
Still, other students say BU is working hard to make life better for its transgender and gender non-conforming students.
CAS senior Evan Leto, a transgender man, said he has had mostly positive experiences with professors and students at BU.
When Leto encountered a professor his freshman year who declined to use gender-neutral pronouns, he said he simply switched classes.
Leto himself has worked with the administration in an attempt to improve policies affecting transgender students. In the summer of 2017, Leto said he worked with the Office of the University Registrar to develop an avenue through which students could change their Terrier Card names.
Transcripts and diplomas, along with information in the student information system, still reflects a student's legal name as listed on official documents like birth certificates and licenses, according to the Registrar's Office website.
Leto said he also worked with the registrar to compile a list of gender-neutral bathrooms on campus as part of the Center for Gender, Sexuality and Activism's proposal to increase the number of these types of restrooms.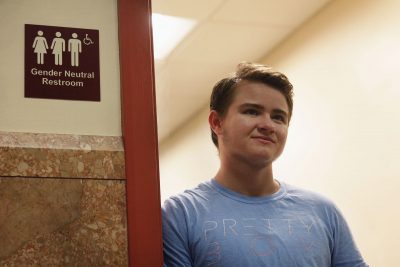 These recent actions, he said, indicate the administration is getting better at accommodating transgender students.
"The fact that I was able to work with someone in the registrar for a few months says something, that there's at least one person who's trying," he said.
His peers' concerns over housing did not come as a surprise to Leto — he and his roommate now live off campus, due in part to the fact that they were refused housing in designated male on-campus apartments, even though they are both transgender men, Leto said.
"We talked to housing about that, and they just said no," Leto said.
Liana G., a nonbinary sophomore in the theater program at the College of Fine Arts, said they had never considered gender-neutral housing an option, as they have difficulty understanding it.

"I don't know how gender-neutral housing even really works," Liana, who asked that their last name be omitted for safety reasons, said. " … I've tried reading about it. I don't really get where I can be with that. Do I have to be in a certain hall? I don't know, I didn't really get it, and I'm not dealing with it right now."
Liana's biggest struggle at BU is getting their professors to use proper pronouns, they said. Liana uses both she/her and they/them pronouns. This is difficult for many professors to comprehend, they said.
Liana said they work with professors to understand their personal pronouns and find a way to make the theater program less entrenched in the gender binary, because they said it uses unnecessarily gendered language.
"It's just really about being open with teachers about what language needs to be there and what doesn't need to be there," Liana said. "And it's a little intimidating because they are older, and they come from a place of being open, but this is all new to them."
Liana feels safe at BU, they said. However, they recognize this may be because they present as female-passing. Another nonbinary friend of Liana's, who was assigned male at birth but dresses femininely, is treated differently, Liana said.
"They're definitely looked at differently than I would ever be, just because that's the way that our society works," Liana said.
Liana was struck by the apparent lack of transgender and nonbinary students at BU, they said. The battle over gender-neutral bathrooms seems unnecessary, they said, when the school could easily build more.
Liana said BU could also benefit from more space for transgender and nonbinary students.
"We have a CGSA, right, but sometimes I feel like it's not enough," Liana said. "Sometimes I feel like, 'Is that the only place I can go? Really?'"
Jake came to BU from the Midwest, where he said he faced more judgment for his gender. This has given him perspective as to what life at BU could be like. He said his placement in a women's dorm feels like it was simply an oversight, instead of an intentional attack. It is something he can deal with, but he said he worries about other transgender students, especially new transfers from Wheelock College.
Before the BU-Wheelock merger, Wheelock College was reported to house a large percentage of students identifying as LGBTQ. Wheelock, in comparison to other area schools, held progressive policies that made it easier for students to receive name and gender marker changes, Jake said.
"For these kids to be in a school like BU, against their will essentially, and not have access to all these things that they had access to for at least a year, it scares me a lot," Jake said.
A common experience among transgender individuals is to accept dysphoria until experiencing life without it, Jake said.
"You don't realize how much dysphoria you're carrying around until it's relieved," Jake said. "I didn't realize how much happier I would be as a man until I started using he/him pronouns. I didn't let myself even think about it.
"And so the more access you have to things that are going the way they should be, when they get taken away, the more it hurts. And then the flip side of that is now we have hundreds of new students who are going to be demanding better changes."
Jake confirmed he was offered placement in another dorm on campus Tuesday. He has elected to stay in his South Campus dorm, as he has already moved in.