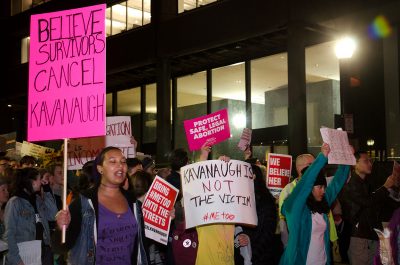 By Samantha Day and Guthrie Kuckes
Hundreds gathered outside the Massachusetts State House Friday night in protest of Supreme Court Justice Brett Kavanaugh's potential confirmation to the U.S. Supreme Court. Several organizers of the rally recounted their experiences of sexual assault and called for men like Kavanaugh to be taken out of power.
The rally, which organizers deemed an "emergency protest," began with a series of speeches on the steps of the State House at 7 p.m., followed by a march to the Edward W. Brooke Courthouse.
Protesters carried signs that read "KavaNo," "My Body My Choice" and "We Believe Her," to show their solidarity with Christine Blasey Ford and other sexual assault survivors who had shared their stories of trauma.
Kavanaugh was confirmed to the Supreme Court by the Senate Saturday afternoon in a 50-48 vote.
The Boston Socialist Alternative and a number of other co-sponsoring groups, including Indivisible Somerville, Planned Parenthood Advocacy Fund of Massachusetts and Boston Democratic Socialists of America, organized the rally.
According to a press release from the Boston Socialist Alternative, the rally was a direct response to Kavanaugh's "long history of abusing women" and supporting a pro-corporate, anti-LGBTQ, anti-women agenda.
"Working people must come into the streets in direct action to show those in power who have pushed through this appointment that our fight is growing," the release stated.
Tori Bilcik of Believe Survivors Boston, who gave a speech at the rally, said the last couple of weeks have been exhausting for her and the rest of the country as Kavanaugh's confirmation process has proceeded.
"I wish that we could be gathering together today in celebration, but it is more like a day of mourning," Bilcik said in her speech. "I am sad, I am frustrated, I feel betrayed and, in some ways, I feel like I saw this coming. But most of all, I am furious."
Bilcik reassured the crowd that the voices of sexual assault survivors matter and that, even if a person is not yet ready to share their story with the public, their experiences are still valid.
"Sometimes our stories feel like the only power that we have," Bilcik told the crowd. "But, I want to recognize all of the people out there who have a story to tell, but maybe aren't ready to tell it yet. Your story is yours to tell when you choose, and I hope that someday you can come forward on your own terms."
Gillian Mason, co-director of Massachusetts Jobs with Justice, said her organization signed a letter of endorsement to stand with victims of sexual violence.
"We signed on as an endorser, just because this really fits with our values and, really, with how we are all feeling with the Kavanaugh situation right now," Mason said in an interview. "I just don't think we should have sexual predators as our Supreme Court justices. It really should be quite that simple."
Massachusetts Jobs with Justice is a coalition of community groups that advocates for the rights of all workers.
Mason said she though the goals of the rally were especially important because women of lower socioeconomic classes are often victims of sexual or domestic violence.
"This is a struggle for every woman, but we want to be thinking most about the people who are going to be most impacted," Mason said, "and those are always women who are at the bottom of the economic food chain here."
The goal of the protest, Mason said, was to increase the visibility of the resistance.
"I think we just hope to call people together and raise visibility of this, just make it clear that Boston is against what is happening in the national politics," she said. "I think that is really important for our movement, to make sure that people know that there is resistance."
Belmont resident and rally attendee Dave Madeloni said he was moved by the turnout of young people at the protest.
"What made this protest so compelling, on the day where it became clear that Kavanaugh will be voted in, was seeing so many young people out in the night," the 63-year-old said, "speaking their truths at a time where it would be easy to be frozen by cynicism and despair."
Abigail White, 25, of Somerville, said she thought the protest went "incredibly well," despite how quickly it was put together.
"[There was a] pretty decent turnout since it was organized in a few hours," White said. "We had around 300 people. All the speakers had incredibly eloquent and passionate stories to tell, often of their own sexual assault."
White said, although she thinks Kavanaugh's confirmation is iminent, the protest was a necessary emotional release.
"Gathering as a community was incredibly cathartic after a week of being disappointed by our representatives," White said. "I am from Maine … [and] I was heartbroken by my state's decision, by Susan Collins, to fall in line with the GOP. Seeing someone, a moderate Republican who I have always looked up to, fall into the Republican fallacy really broke my heart."