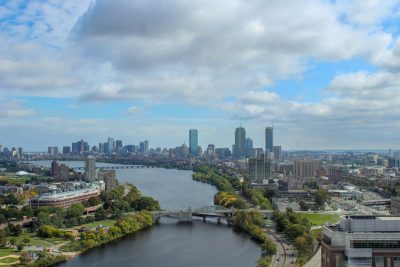 Nearly one out of every five buildings built in Boston since 2012 has failed to meet energy efficiency standards, according to data from a new City report.
The City recently released a spreadsheet that assigned "energy star scores" to each building from which it received data. The scores showed the buildings' energy efficiency relative to similar buildings across the country.
About 20 percent of new buildings in Boston have an energy score of 50 or below, which means these buildings rank in the bottom 50th percentile nationwide for energy efficiency.
Lauren Zingarelli, director of communications and community engagements for the City's Environment Department, said the report, and the ordinance that produces it, is important for future environmental progress.
"The City's Building Energy and Reporting Disclosure Ordinance is a useful tool to help large buildings in Boston be aware of and achieve energy saving," Zingarelli said. "That is an important step for citywide greenhouse gas reductions."
Boston has an ongoing Climate Action Plan that aims to reduce greenhouse gases 25 percent by the year 2020.
Beth Daley, director of strategic development for InsideClimate News, said cost can often be a limiting factor in constructing energy efficient buildings, making reducing emissions and increasing sustainability complicated.
"The problem is, it sometimes requires up-front costs to save money in the long term, and builders don't want to invest in it," Daley said. "Often, they are not the people who get the savings. However, Boston has been progressive on making headway."
Ken Sazama, a real estate agent in Jamaica Plain, said many people in the real estate business do not actively work to ensure energy efficiency in homes and buildings.
"I have fellow real estate agents who care about the issue," Sazama said, "but I often feel like one of the only ones who is speaking up against it, checking buildings before they sell."
Sazama said he is in support of having an energy efficiency test or more guidelines for buildings. He said he thinks it's important to encourage both new constructions and existing buildings to be more energy efficient.
"I always see it as upping property value," Sazama said, "not decreasing it."
Sazama said Community Choice Aggregation is a program Boston should adopt to further improve energy efficiency and decrease greenhouse gas outputs.
"It would make it so the residents of Boston would become one big customer," Sazama said. "That contract, with the help of a consultant, would go to wind, solar and green energies. People would have to opt out of that if they wanted to. You would have to say, 'I don't want my energy to be clean energy.' It would be a huge bump for clean energy."
CORRECTION: A previous version of this article inaccurately titled "Majority of Boston buildings are energy inefficient, City data reports." "Majority" has been replaced with "Many." The current version includes this change.