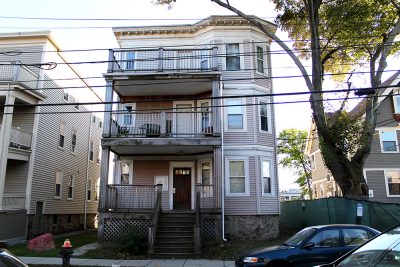 By Audrey Martin and Natalie Patrick
Frezzia Herrera and her husband were given a 14-day eviction notice to leave their Roxbury apartment in 2013. Instead of leaving, the couple said they chose to fight the notice, and since then, they have spent the past five years pushing back against the eviction and annual rent increases with lawyers.
The Herrera's fight will come to an end in July, as Frezzia said they were pushed into a deal with their landlord and must leave before July 31. However, Frezzia said she feels like she has won because she proved to her landlord that she would not be scared away.
"We were fighting for this for five years … to let them know that we have rights as Latinos," Frezzia said. "We need to fight for what is ours, and the victory for us, that even though we still have to move out, is that we did not pay them what they were asking."
Herrera's situation with her landlord is not uncommon in Boston. Many renters are being forced out of their homes as landlords continue to raise rents or order evictions of entire apartment buildings.
Only 19 percent of housing units currently available in Boston are considered affordable for moderate- to low-income residents.
Boston Mayor Martin Walsh announced in a press release Tuesday that the Boston Department of Neighborhood Development and the Boston Planning and Development Agency will include measures that promote diversity and inclusion and prevent displacement.
This new initiative is meant to help residents retain their homes at an affordable cost and have more opportunities for economic advancement, according to the release.
"These steps build on the measures we have taken to remove barriers that hinder individuals from reaching their full potential based on their background, race, or gender," Walsh said in the release, "while ensuring that new development on public land happens without displacement."  
These measures came a week after Walsh and the Metropolitan Mayors Coalition announced new housing goals that include creating 185,000 new units of housing across the Boston region by the year 2030.
A representative from the Mayor's Office of Housing Stability was unable to comment by press time about the issue of housing displacement in Boston.
Patricia Baumer, director of government affairs at the Greater Boston Real Estate Board, which manages residential and commercial Boston real estate, said she was not familiar with any displacement issues in the city.
While the City is focusing on creating more housing for residents, organizations like City Life/Vida Urbana, a Boston-based housing justice organization, are working to keep residents from being forced out of their homes.
Helen Matthews, communications director for CLVU, said one of the biggest issues surrounding displacement is the lack of data on the issue.
"The City has no mechanism for tracking eviction, aside from looking at housing court data, which is not happening in real time," Matthews said. "So, they're looking at outdated housing court data that has to be hand-digitized from paperbacks from a year or two prior."
Additionally, Matthews said that residents facing displacement are often too intimidated to take their cases to court.
CLVU Community Organizer Alex Ponte-Capellan said the organization is working with individual cases, as well as a larger group of people to look for solutions to housing displacement in the future. He said that recent housing developments in Boston are geared toward luxury buyers, which he said contribute to displacement in the city.
East Boston in particular, Matthews said, has faced a high number of evictions and "building clear-outs," or sudden evictions of an entire building.
"If you walked into East Boston and talked to a recent immigrant there about displacement, I highly doubt you would find anyone who would say that there is not a displacement crisis going on because that neighborhood is ravished by eviction," Matthews said.