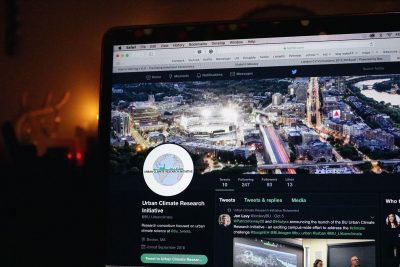 Boston University's Urban Climate Research Initiative, a coalition that intends to inform the City of Boston on what actions to take when combating climate change, launched Friday.
The cross-campus initiative aims to lay the foundation for large-scale actions and interdisciplinary research, said Jonathan Levy, a professor in the BU School of Public Health's Department of Environmental Health.
"We want the initiative to become a locus of activities focusing on urban climate change work," Levy said.
The group began to coalesce last spring, but officially came together over the summer, said Patrick Kinney, co-leader of the initiative and a professor in the Department of Environmental Health.
"There was a lot of informal collaboration going on, but at some point, it becomes useful to formalize it and to give it a name and structure," Kinney said. "This will take it to another level, both with the effectiveness of the interactions among the partners, but also in the way it is presented to both the university and the outside world."
According to Kinney, Lucy Hutyra, a professor in the Earth and Environment Department, co-leads the initiative as well.
Marlee Mullane, a freshman in the Wheelock College of Education and Human Development, said she is excited at the prospect of BU becoming more involved in urban climate change work.
"The fact that they're targeting a large group of people, but also the fact that this large group of people is the next generation that's going to affect that, I think it's awesome," Mullane said.
To mark their inception, the group held a kickoff event Friday with Iyad Kheirbek, head of air quality for the international climate change organization C40 Cities, according to a tweet from the initiative.
Kinney said the partnership between a university and its city can provide educational opportunities to students while simultaneously advising the city with expertise.
"Cities are setting ambitious goals, but they don't necessarily know how to achieve those goals," Kinney said. "Universities can make sure that cities are keeping abreast of the latest emerging methods for doing this kind of work. It can become a catalyst for research that's targeted towards problems that cities are actually facing, not just pie-in-the-sky research."
Kinney said universities can help cities determine where their focus should be when trying to reduce carbon emissions.
"Depending on the location of the city, there are different sectors that are responsible for more emissions," said Kinney. "Sometimes it's transportation, sometimes it's buildings that are the big emitters. The city really needs to think about where the greenhouse gas emissions are coming from and develop a tailored pathway for solving the problem."
Cities are also tasked with finding ways they can mitigate the effects of worsening climate change, Kinney said, such as rising sea levels, increasing storm intensities and rising temperatures.
Universities can also help cities find solutions to more immediate problems, Kinney said. BU is currently working with the City of Boston to help achieve the goal of being carbon free by 2050 through the Institute for Sustainable Energy, a group that is a part of the Urban Climate Research Initiative.
Both Levy and Kinney emphasized the importance of the co-benefits that reducing carbon emissions provides for cities and their residents.
"It gets people out of cars, and you don't have to wait 100 years to see those changes," Kinney said. "They occur right away."
Increasing access to and quality of public transportation, making changes to infrastructure that encourage walking and biking, adding more green spaces and buying green energy, Levy said, could be potential initiatives cities could take to reduce carbon emissions.
Jade Rona, a freshman in the College of Arts and Sciences, said she is supportive of the initiative encouraging such measures.
"Anything to reduce the traffic that goes through school and promote maybe some more bike usage would be great," Rona said. "I know every day I see either a traffic jam or somebody almost get hit by a car, and there's usually some sort of smell of emissions no matter where I go, so cutting that down sounds great to me."
In the coming months, Kinney said the Urban Climate Research Initiative hopes to host faculty workshops for professors to share their research on climate change and brainstorm new research initiatives. He said he hopes the initiative will be both long-lasting and impactful.
"I think it can be a model for other cities to develop partnerships between universities and urban planners and policy makers to figure out how to get to their clean carbon goals in ways that are efficient and effective," Kinney said.
Caitlyn Leonard contributed reporting.