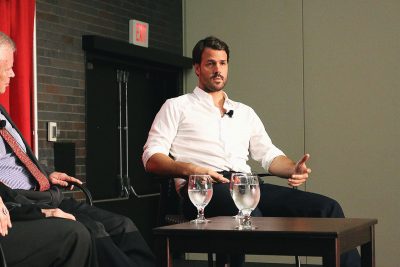 The Metcalf Ballroom filled with commotion as a crowd of alumni, students and other Boston University community members conversed as they found their chairs. The audience fell silent once the subjects of the night appeared onstage.
Jonathan Alpeyrie, a war photojournalist, and Bonnie Timmermann, a producer and casting director, spoke at the talk at The Metcalf Ballroom in the George Sherman Union Thursday evening.
Stephen Kinzer, former New York Times foreign correspondent and current Boston Globe columnist, moderated the discussion. The forum was part of the Gotlieb Center's "Friends Speaker Series."
Sean Noel, associate director of the Gotlieb Center, said the the center hosts at least two talks per semester and credited Vita Paladino, Gotlieb Center director, with inspiring the objective of the series.
"[She] has a big mission of trying to bring people here who would be good role models for our students and who have a narrative for what they overcame and how they became top in their field," Noel said in an interview.
Past Friends Speaker Series discussions have often featured one individual who would then share expertise and perspective toward that line of work. This talk included three individuals who work in various fields and have different experiences.
In 2013, Alpeyrie took his third trip to Syria to document the civil war. Alpeyrie entered Syria through Lebanon before being smuggled into a fighting zone near Damascus, he said. After 10 days on assignment, he said he was taken hostage by a group of what he called "opportunists."
Alpeyrie was held captive for nearly three months. He said he initially was blindfolded, bound and tortured, yet as time wore on, the torture lessened and he was permitted greater freedoms.
However, he said the experience did not come as a surprise, seeing as how he was working in such a dangerous environment. Alpeyrie said he understood that in that area, kidnapping was "a business."
"If you don't want that, you go cover a story in Switzerland," Alpeyrie said during the talk.
Timmermann first heard the photojournalist's story at a restaurant years ago. She had been dining alone when she noticed him also sitting by himself.
"I felt there was something going on there, and I invited him to my table, and then I learned about his story," Timmermann said in an interview. "We spent a lot of time together. [After] the first few hours he talked, I said, 'Yeah, I'd like to make this into a film.'"
Timmermann said she knew that night she wanted to call the film "The Swimmer." Alpeyrie had explained that during the third month of his captivity, he mentioned that he was a swimmer, and because many of his captors and others of the area didn't know how to swim, his skill created an opportunity.
Days later, he found himself in the pool with a captor in swim trunks, he said. In a home-turned military base with the captors laughing and filming on the pool's perimeter, Alpeyrie taught a Syrian warlord how to swim. Two days later, he was released.
"I think the swimming was the bond that saved him," Timmermann said onstage.
Alpeyrie ended the story with a smile and mentioned how one of his former torturers was now his Facebook friend who sometimes liked his posts. He spoke of the humorous and profound moments in his captivity throughout the evening, juxtaposing a humane essence with a war zone.
"When you expect to hear about somebody's captivity in somewhere like Syria, you don't expect [them to] find the humor or the good in the horrendous overall position that no one would ever want to be in," said Aimee Melvin, an attendee and former U.S. Air Force program manager. "The fact that [he] could take something good, I think that was probably my biggest [takeaway]."
In Syria, Alpeyrie said he abided by a phrase his mother taught him as a child: imitating is immersing. He grew his beard out, attempted to learn Arabic and respected his captors' religious observations. His imitative actions, he said, served as a gateway for his freedom.
The photojournalist said he strives to share the entirety of the situation in his work, emphasizing the war's context and the region's history, something he believes most mass media fail to do.
"The problem is that the media advances its theories and a lot of them are wrong," Alpeyrie said in an interview. "They omit the real historical and geostrategic perspective of things and go too much into the details when first they should go more into a global understanding. I think they're doing it backwards."
Alpeyrie has turned his experience into a book, "The Shattered Lens: A War Photographer's True Story of Captivity and Survival in Syria," with the support of Timmermann. Now, the two have begun to turn the story into a movie together.
"I think that we can educate by telling stories," Timmermann said.