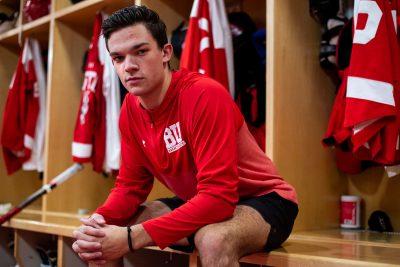 After a freshman campaign that saw him finish with 32 points and 17 goals, which earned him a spot on the Hockey East All-Rookie Team, sophomore forward Shane Bowers said he was excited to build off of last season's individual and team successes. The Daily Free Press caught up with Bowers to talk about pregame rituals, what it's like winning the Hockey East Championship and what makes playing at Boston University special going into year two.
First question is — why BU?

For me, it's just when I was recruited, the coaching staff, and once I got here, I've seen the facilities and the program and the history that they have here, and it made [coming to BU] an easy decision.

What's your favorite memory from last season?


Probably winning the Hockey East [Championship]. We all needed to win that game to make the [NCAA Tournament,] and there was a lot behind it, so to win that was pretty special, and the celebration and stuff with the team was really fun.

What was your initial feeling of finding out that former BU head coach David Quinn was going to the New York Rangers?

We were excited for him but also disappointed, but, obviously we're happy now that Albie's [O'Connell, BU's new head coach] here, and we're coming back more excited to have him as a coach this year.

What's the preseason been like with Albie?

It's been really good so far. I mean, obviously, it sucks being around for a long time before we can play, but it's here now, and the preseason looks good.

What's your favorite place to eat around Boston?

I'm not sure. There's a lot of good places. I couldn't really pick one since this is such a big city, there's so many spots. I don't think I could pinpoint one.

What's your favorite pregame hype song?

Not one song in particular. Usually, I listen to a lot of raps before the game — mostly Drake, but no one song.

Do you have any pre-game rituals?

Yeah. I get newer ones each year, but definitely tape my stick every game. I don't want people to touch it before the game, and usually, I get the same coffee and put all the clothes on the same way. Right foot first, then left, so just weird stuff. I kind of pick up more as the year goes on.

Who on this team can rile anybody up before a game?

I don't know. … I'd say maybe [junior defenseman Dante] Fabbro, though. Fabs usually before the game gets the boys going.

In practice after you score on a goalie, do you celebrate? Do you guys joke around with the goalie after?

Yeah. Definitely, if it's Oettinger, I'd probably celebrate quite a bit. Guys like to poke fun at each other, and now everyone's always out there pushing each other, so it's a lot of fun.

Where do you think the team focused on improving this year?

I think, obviously, every year we want to win. Anything short of a national championship, I think, at BU is failure, and that's where we're going to hold the standard. We want to win every year and be the best team. That's the goal every year.

What did you work on in this off-season?

I know it was pretty cliche, but I think after I got home, I wanted to get bigger and stronger, and I was able to accomplish that and also work on my game and getting better every day.

What do the freshmen bring this year?

They've been great so far. They bring a lot of steam, a lot of skill. I think they're going to be a great addition for us.

How was the transition coming from Canada to the United States?

Well, I've been living here since high school, so I moved here three years ago — not sure I would have loved it. When I first moved here, I moved to the Midwest and there was no water. Where I'm from, Halifax, I'm on the ocean, but now I'm back to the East Coast, so it's pretty similar.

How did you get involved in hockey?

Probably just growing up in Canada helped. My dad and my uncles played, and I'm sure they probably pushed me towards it. I guess I never looked back since.

Name your biggest influence on your hockey career so far?

I'd probably say my parents. They've been there pushing me and supporting me through it the whole way. They're always in my corner, so I think definitely my parents.

If you have any career outside of hockey, what would you pick?

I don't know. Jeez. I haven't really pictured anything else, but I don't know. When I was younger, I always wanted to be a police officer, so maybe that.

Where's one place you'd love to travel?

Somewhere in Europe. I think Europe's a pretty cool spot, so maybe Italy.

How do you not get lost in the media hype shadowing you?

I figure you just want to stay focused within the team — in your own self — and not really pay attention to it or buy into it too much. Like you said, nowadays media's a pretty big factor, but I think you just got to stay focused on yourself and on the team and make sure that you're keeping your head down when it comes to that stuff.

What do you think BU needs to do to get deep again to the NCAA tournament this year?

I think that we have all the right ingredients, per se, to do that, and I think it's just going to come down within the locker room, within the boys — everyone buying in and doing the right thing, day in and day out. The rest of it should take care of itself.

Lastly, what makes BU so exciting to play for? I think, like I said earlier, just the rich history that the school has as a hockey program and obviously our fans and everything. Putting on the jersey. Everything that's so special and I think that every time I put on the jersey, I'm excited, and I think that a lot of the guys can testify to that, too.


Some responses have been revised for clarity purposes. Question 19 originally referred to the NCAA tournament as the "Double A" tournament and has been edited for clarity.
Matthew Martin contributed to the reporting of this article.