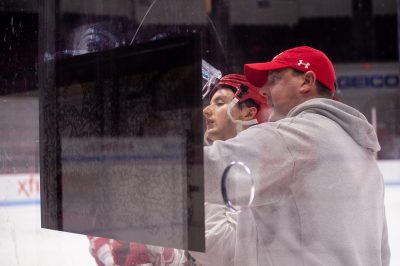 For the Boston University men's hockey team, this summer has been as eventful as any in recent memory.
Since the Terriers' season ended in March in the Northeast Regional Finals of the NCAA Men's Ice Hockey Tournament, BU has seen an Olympian, a former Hockey East All-Rookie selection and most notably, its five-season head coach leave for the NHL.
After David Quinn left BU to coach the New York Rangers, an associate-turned-head coach Albie O'Connell was given the opportunity to become the face of his alma mater's famed hockey program.
"After you work at a lot of different programs, learn the business, learn what each levels represent, learn how to manage different things along the way, at some point you'd like to run a program," O'Connell said regarding the university's coaching search. "I was just fortunate in my first [head-coaching opportunity] to get to do it at my alma mater."
At BU, O'Connell said the goal for every hockey season is to compete for national championships, not postseason appearances.
Although Quinn's tenure never saw a national championship, his team's record still featured in a national championship game while claiming two Hockey East titles and a Beanpot trophy.
While Quinn was at the helm for six NHL first-round draft picks, O'Connell said he is aware that the Terriers' expectations have not changed, regardless of who is coaching.
Quinn was noted for his fiery, vocal coaching style, a stark contrast to O'Connell's softer demeanor.
However different their personalities are, they were still both students of BU's all-time winningest coach, Jack Parker, and know what best embodies the hockey program.
"I think [Quinn and I] got the same values," O'Connell said. "… And I think that's been the values of BU hockey from Jack Parker, a hard-nosed, hard-working team that plays at a high pace, that plays in your face, and you're going to have to beat us to win."
Although O'Connell is not a new face at the helm of Terrier hockey — he was hired in 2014 as Quinn's associate head coach — players have shown excitement for what can be achieved under their new leader.
Junior defenseman and co-captain Dante Fabbro stated that despite O'Connell's title change, some aspects remain familiar.
"I feel like you train for a season just like any other season," Fabbro said. "Obviously, the guys returning have an [idea] as to what Albie's like, and you know, so far so good right now. He's done an unbelievable job of managing time, getting us on the ice and utilizing our ice time as much as possible."
Starting positions are never a guarantee, and this offseason especially, players have noticed an increase in urgency.
Coupled with veterans such as junior goaltender Jake Oettinger and senior co-captain Bobo Carpenter to compete against, players have acknowledged that a minute amount of extra effort can make an impression on the new boss in town.
Junior defenseman and assistant captain Chad Krys spoke to the energy in the room going into the season.
"… I think more than anything, guys are going to have a little more jump to their step to be sure that they're playing well to get themselves in the lineup to make sure they get [important] roles," Krys said.
For the Terriers, the road to the national championship starts off in the Midwest.
Come Friday, No. 8 BU will fly to take on No. 11 Minnesota State University, Mankato.
Just days from coaching his first game on the road against a national powerhouse, O'Connell will be there to kick-start a new era of BU hockey, one which he said he cannot wait to experience.
"BU's a great place," O'Connell said. "I've had a lot of great memories as a coach and as a student-athlete, and hopefully we'll have a lot of great moments to share."
Matthew Martin contributed to the reporting of this article.