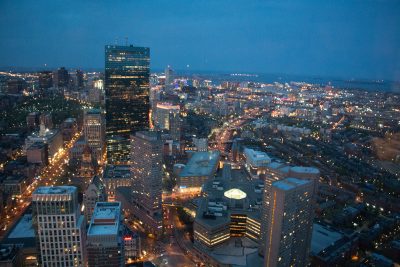 By Shayna Scott, Julia Sullivan and Sari Cohen
Boston is the second best city in the nation when it comes to economic mobility, according to a recent report by The Boston Foundation's research center, Boston Indicators.
In comparing the 100 largest commuting zones in the United States, the analysis revealed that Boston ranks first in the United States for economic mobility for black people. Each of Boston's ethnic minority groups ranked in the top 10 nationwide, except for Hispanic males, who rank 24th nationwide.
The analysis showed that although the chances of economic mobility in Boston, for the majority of ethnic groups, are some of the best in the country, the nation has seen a decline in economic mobility overall.
The average annual income for a black man in Boston was found to be $23,730. Only 12 percent of those in Boston's black population who make less than $39,000 annually own a home in the Greater Boston area, according to the report. For Latino and Hispanic households it is even lower, falling in at 7 percent. However, more than one-third of white families in the same income bracket are Boston homeowners, the report stated.
Luc Schuster, co-author of the report, said a main motivation when conducting the study was the desire to explain these two contrasting realities.
"What really motivated the report was sense that people are kinda feeling two things at the same time about the city of Boston," Schuster said, "one that the city is growing, the economy is growing, our population is growing. But, there's just this persistent sense that this economic boom is not delivering for everyone."
Schuster said he recognized the City's efforts to combat inequality but thought more efforts needed to be made.
He said even though housing prices are "skyrocketing" and placing pressure on low-income families, the city has provided a relatively high number of government-subsidized housing units compared to other cities.
"I think a key part of this puzzle," Schuster said, "is also making sure that other cities in the inner ring of the metro region are producing their own fair share of multi-family housing."
Jonathan Haughton, an economics professor at Suffolk University, said he thinks overall economic mobility is declining in the United States, but that he believes Boston is an exception.
Haughton said education has a positive role in improving the city's economic mobility due to the number of colleges and universities in it.
"The figures on wealth in Boston, broken down by ethnic grown, are stunning," Haughton said. "African Americans in Boston have essentially no net wealth, while white households have, on average, about a quarter of a million dollars in wealth."
Haughton said although this gap is not new, it may take a long time to close.
Back Bay resident Karyn Palomba said she thinks Boston's economic mobility is a good incentive to move to the city and is exciting news for Boston residents.
"I guess it's promising because there are obviously more jobs coming about and their kids are more successful," the 31-year-old said. "They know they can succeed."