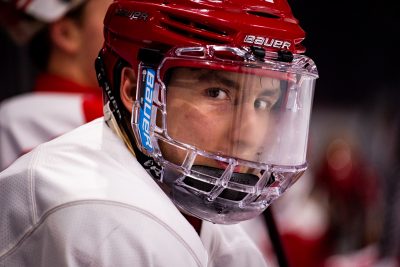 The phrase "What if?" can apply to almost any situation as we look back on past events.
"What if?" is exactly the question Boston University men's hockey fans pose when they think of last year's NCAA Tournament run.
What if the Terriers that went all the way to the Northeast Regional final had junior forward Patrick Harper on the ice with them?
Before going down 20 games into the season last winter due to a respiratory illness, Harper was leading the team in points with 21 after amassing eight goals and 13 assists.
"It sucked," Harper said of missing out on his team's Hockey East title and subsequent NCAA Tournament. "There was nothing I could really do about it, just cheer for the team and help my teammates out, do whatever I could for those guys."
A fifth-round pick of the Nashville Predators in 2016, Harper has compiled a laundry list of achievements over his budding career on the ice, but was unable to compete in the Terrier line-up during their push for the Frozen Four services last spring.
Harper is back for another season with the Terriers, playing the role of an upperclassmen on a top forward line that includes sophomore Shane Bowers and freshman Joel Farabee.
BU head coach Albie O'Connell expressed excitement for the forward's return.
"It's like getting a blue-chip recruit," O'Connell said. "He's got a good energy about him and the guys are pretty confident in his ability, so he gives the whole team confidence."
According to Harper's teammates, his return should add to the team's production this season.
"It's going to be unbelievable for us," junior goaltender Jake Oettinger said. "We had a heck of a run last year without one of our best players. To get him back is huge for the guys and for the morale."
Last season, he received two Hockey East Player of the Week honors Oct. 9 after recording two goals and an assist against Quinnipiac University and another recognition Dec. 4 after compiling four assists in a game against Boston College.
His production as a freshman was just as good — the undersized 5-foot-9-inch, 160-pounder was second on the squad with 37 points and tied for first with 24 assists.
He started his career off with a bang, piling up 10 points in his first 12 games and winning Hockey East Player of the Week in the first week of his college tenure.
The native of New Canaan, Connecticut, has experience competing on a national level as well.
Harper represented Team USA in the IIHF World Junior Championship in 2017 and 2018, winning gold and bronze medals, respectively.
Now, Harper said he had high expectations for himself to return to his previous level of production and help the team make an even deeper postseason run.
"I have a lot of expectations," Harper said. "I just want to win a National Championship here. That's the main focus, and anything short of that is a disappointment. I think everyone in the room has the same mentality. We are here to play."
It's been a long road for Harper to get back to playing competitive hockey — he says he recovered from the illness around the time of the NCAA Tournament, but his conditioning had been set back too far for him to return to play.
"March, I was fine by then," Harper said. "But had to take some steps. Took a little bit of time, so I had to sacrifice the second half of the season."
The summer offseason allowed Harper a chance to rebuild his strength completely and get ready for play once again..
He returned to the Terriers line chart Saturday night for the exhibition opener against Acadia University, a member of the Canadian U Sports governing body, and managed to score a goal in the third period.
The goal had Harper chasing down a rebound after a stuffed breakaway chance from Farabee and lifting a backhander off a defenseman and into the net.
O'Connell said he sees a lot of talent in Harper.
"He's an elite player," O'Connell said. "He's an elite scorer. He's small, but he plays big. He's got a big heart."