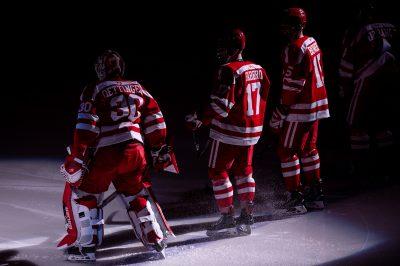 Alabama football. Kentucky basketball. Boston University hockey.
In each of their respective sports, these are the places you go if you want to end up being a first-round pick.
As the NHL regular season began play Oct. 3, 15 former Terriers were donning sweaters. Many of these players, including recent stars Jack Eichel and Clayton Keller, were drafted in the first round.
BU head coach Albie O'Connell has seen many of these players come through the program and he said it meant good things about the it.
"I think we have had more [first-rounders] recently," O'Connell said. "It's great. It's a big decision for those guys in where they choose [to play in college]. It's important for us to continue to develop them and make sure we push them."
BU has seen nine players drafted in the first round over the last four draft years, with Eichel leading the charge when he became the second player drafted in 2015.
The following season, four players — Keller, Charlie McAvoy, Dante Fabbro and Kieffer Bellows — went among the first 30.
In 2017, current Terrier goalkeeper Jake Oettinger and forward Shane Bowers were selected in the first round, and current Ottawa Senators forward Brady Tkachuk and BU forward Joel Farabee went in the first round of this summer's event.
BU's reputation as a hockey factory has made it a hot spot for recruits who want to see their names up in lights at the NHL Draft one day, and, according to Farabee, the recruiting pitch basically makes itself.
"If you look at the guys that have been here as far as the hockey program, it's a pretty good stat sheet," Farabee said. "That and the great staff and facilities here made it a real easy choice for me to come here."
This reign over the NHL draft is unparalleled: the only other school that comes close to rivaling this output is the University of Michigan, which has moved four first-rounders through its system over the last four drafts.
Meanwhile, Boston College, the University of North Dakota and the University of Wisconsin have sent three players to the first round since 2015.
Farabee joins the Terriers after being selected with the 14th overall pick by the Philadelphia Flyers in June. Despite his wiry 6-foot-1-inch, 170-pound frame, the Cicero, New York, native has a history of production.
Playing for the U.S. National Under-18 Team last season, Farabee piled up 33 goals and 43 assists in 62 games.
Although his production ensured his stature as a first-rounder, Farabee still had some butterflies on draft night in Dallas.
"It was a pretty nerve-wracking night," Farabee said. "Wasn't really sure where I was going to go. I kind of had an idea, but I really just left it to chance."
While Farabee was selected in the first half of the first round, Oettinger had to wait a little bit longer to see his name go off the draft board in 2017.
The Dallas Stars traded up to the 26th pick to Oettinger, and general manager Jim Nill said having the goaltender in the Stars' organization had the potential to help the team in the long run, due to how long it takes to develop goalies.
Looking forward, Farabee will have the opportunity to advance his game in a similar fashion over his collegiate career to ready him for the Metropolitan Division ranks.
For Oettinger, hearing his name called at the draft was something he'd been looking forward to his entire life.
"I had a lot of family and friends there, so it was really special," Oettinger said. "It was definitely a dream come true. Obviously, you always want to go in the first round, but you never really know if you will or not, so to finally have that dream come true was a huge honor."
Oettinger's experience on ice with the Terriers over the last two seasons has been critical to his development as a future starting goaltender in the NHL. He said that getting drafted was a dream he had since he started to play hockey.
"To have it be coming closer and closer every year is really cool," Oettinger said. "Obviously, it's what I want to do as a living for the rest of my life, so I definitely want to make it there one day for sure."