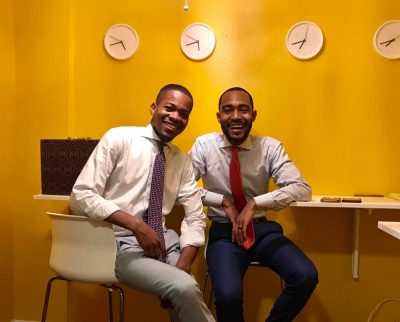 Jonathan Allen was asked to share tips and tricks for managing student governments and affairs six years ago when he served as student body president for Grambling State University.
That question would lead Allen, currently a third-year law student at Boston University's School of Law and a fellow at Harvard Law School's Charles Hamilton Houston Institute for Race and Justice, to create the nonprofit The Leadership Brainery with Derrick Young Jr., who was the Grambling director of student relations while Allen was president.
A year later in 2013, the pair, who are also engaged, said they co-founded the nonprofit with the intent of providing student leaders with the tools and guidance needed to become successful trailblazers. The Leadership Brainery's pupils are first-generation students who come from diverse socioeconomic and cultural backgrounds.
Young said the organization uses a three-year model which both streamlines students into top graduate, law, business or medical schools and creates a network for those students to utilize. He reported the first cohort of The Leadership Brainery's scholars is set to launch in fall 2019.
"[The Leadership Brainery is] selecting one student leader from each state, including Washington, D.C. and Puerto Rico," Young said. "For three years, we go through a professional development, personal development and leadership development at three summits each year. And they also work on projects."
He explained the selected members of the cohort do a project their sophomore year focused on the campus they're at and then junior year complete a project with their respective states in mind.
The scholars cap off with a third project their senior year that is focused on the national level. Young divulged that throughout this process, another piece of each cohort member's pipeline would form.
"Through all of this experience — with not only gaining a national network, having these experiences, work experiences, their projects and their internships, but then also all the preparation we're doing at the summit," Young said, "[it] all comes together for them to be the best leaders they can possibly be, but also great candidates for top graduate schools."
Allen said The Leadership Brainery is an opportunity to empower students to fight cultural and socioeconomic disparity and that his desire to combat this disparity is derived from prior personal experiences.
"[Young] was the only black man in his incoming class at Tufts Med," Allen said. "And I was one of three black men in my incoming class at BU Law. That had a tremendous influence on our experience, on our networks, on how we were able to navigate academics and social life or professional life."
Allen said his experience shaped his determination to create an organization that would provide a pipeline for young leaders.
"Through that experience I said 'wait,'" Allen said. "'Somebody has to be reaching back and preparing more young people who are coming in the pipeline, who have shared experiences as [Young and I] do so that they don't necessarily have to endure what we considered to have been an injustice.'"
Devin Harvin, BU student body president and College of Arts and Sciences senior, said he recently attended a workshop with The Leadership Brainery held by the student government. He detailed how Allen gave him some personal advice for how a student body president should lead and what his roles are.
"[Allen] said, 'You kind of have two roles. In one sense, you are the president in that you conduct the day-to-day operations — you help oversee everything, and in another sense, you are a student, and you have to relate to students to understand their struggles and to kind of bear the weight they put on you.'"
Harvin said he hoped that future student body presidents would invite Allen and Young back to BU for future inspirational and empowering workshops. To Harvin, The Leadership Brainery was a "perfect fit."
"They brought an energy that was similar to the energy we are trying to bring to student government and trying to revitalize it," Harvin said.