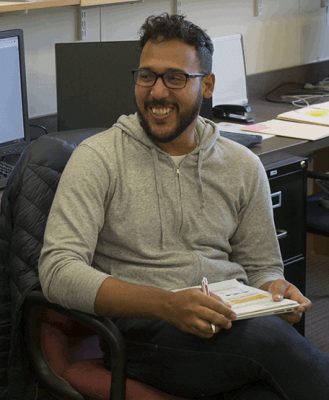 A Boston University doctoral student has received a scholarship from the Robert Wood Johnson Foundation, the nation's largest philanthropic organization dedicated to health.
Michael Rosario, a second-year doctoral student in the School of Medicine, was chosen Tuesday for the foundation's Health Policy Research Scholars (HPRS) program, Rosario wrote in an email.
"Although the HPRS program focuses on health policy and public health," Rosario wrote, "it is primarily for graduate students in many different fields who are interested in collaborating to foster a Culture of Health."
Rosario received the scholarship for a project called "Perceived racism as a chronic stressor and cognition in older Black seniors." In this study, he wrote that he will look at the potential effects of racial discrimination on brain changes similar to those involved in early Alzheimer's disease.
One of Rosario's mentors, Karin Schon, a BUSM assistant professor and the director of Schon Lab, has been working on a similar research project funded by the Alzheimer's Association.
The project will compare two different demographic groups of older adults and how psychosocial stress affects their brains, Schon said. One of the groups is African Americans from Boston, who are in the minority, while the other group is African Americans from the U.S. Virgin Islands, who make up the majority there.
"We know that there is a health disparity in Alzheimer's disease, so what that means is African-American older adults are more likely to have Alzheimer's disease than white older adults," Schon said. "So, we are wondering whether stress experienced due to discrimination based on race may contribute to that."
Rosario will look for differences in brain outcome measures through brain imaging, Schon said.
Rosario wrote that he plans to use his funds to support his graduate stipend and to support his research project by purchasing materials, travelling and presenting at scientific conferences.
Although Rosario did have to apply for the scholarship with a written submission and an interview, Schon said she thought he was the perfect candidate based on his background in psychology and public health.
"He actually has an interest in maybe working for an organization such as the National Institute of Health," Schon said, "and this particular scholarship is for potential future leaders, and he really is the kind of candidate that if he does really well with this scholarship, then he can hopefully later on achieve those goals."
Rosario wrote that his mentors, Schon and Yvette Cozier, an associate professor of epidemiology in the School of Public Health, helped him during the application process by reviewing his documents and conducting mock interviews.
"I can never stress enough the importance of having great mentors to surround and support you in any endeavor that you undertake," Rosario wrote.
When Rosario was a rising senior studying psychology at the University of the Virgin Islands, St. Croix, he spent a summer in Schon's lab, as part of a program for undergraduate students from underrepresented groups in STEM fields, according to Schon.
Though Schon is the principal investigator, Rosario is the primary person in charge of the project, Schon said.
"He's moving this project forward and he is a really good communicator which I think is really critical for research success and success in programs like they have on policy research scholarships," Schon said. "He's proactive as well which is a really great trait to have in graduate school, at least for research."