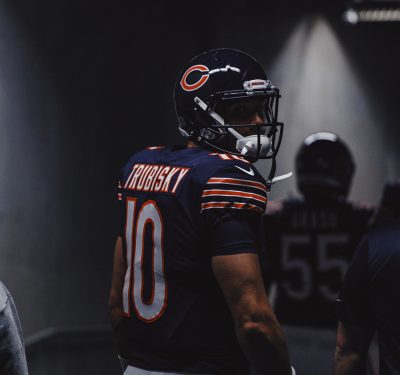 At this point, it is clear that head coach Matt Nagy knows exactly what he is doing as the leader of a potent Chicago Bears offense.
I have written about some of these skill players before (Jordan Howard and Tarik Cohen) and touched upon the other fantasy-relevant performers on this roster. Now, in Week 7, I am ready to fully move Howard to a bench role and promote Cohen to an everyday FLEX man. Two weeks ago, I said the same exact thing, but after Howard fumbled on the one-yard line and was a complete non-factor until overtime makes me want to go with the more talented and shifty Cohen.
Howard has been covered in previous weeks, so there is no need to harp on him.
And Mitchell Trubisky, well, I would not have a problem considering him a QB1 at this point. The last two weeks, Trubisky has put up an eye-popping 70.8 points in an incredible matchup against a porous New England secondary.
Trubisky now sits at 104.84 fantasy points on the season and has already passed for 1,261 yards, 11 touchdowns and rushed for impressive 164 yards and one TD. The should-be fading out of Jordan Howard from this offense should only prove to raise Trubisky's value during the season. Tarik Cohen is a very talented pass-catching back and has consistently opened up the field for Trubisky to scramble for chunk gains from week to week.
And where there are good fantasy quarterbacks, there are viable wide receiver options.
Enter in Allen Robinson and Taylor Gabriel.
Allen Robinson is far from a WR1, but he has proven himself to have a pretty significant floor. Like his receiving counterpart, Gabriel is also not even remotely close to warranting WR1 consideration, but his ridiculous speed and quick feet have set himself as the primary deep threat on an outrageously high-powered offense.
While Robinson has never amassed more than 83 yards in a single game this season, his point totals are 6.1, 8.3, 5.0, 8.3 and most recently 12.4 (standard, non-ppr). Again, this is nothing to write home about, but as the season progresses, I am expecting Robinson to take on a far larger role in this pass-first offense.
Gabriel is just 27 percent owned but has put up 104 and 110 yards in consecutive weeks paired with two touchdowns. The former Atlanta Falcon has also collected his fair share of targets, seeing 22 in the last three weeks.
And last but not least, the 'Philly Special' quarterback Trey Burton has made for a very serviceable option at tight end. So far this season, Burton ranks as the seventh-best tight end (keep in mind he has already had a bye) and will continue to be a plus play thanks to the development of Nagy and Trubisky as an offensive unit.
Hilariously, Jordan Howard was supposed to be the best fantasy option among Bears players this year, but out of the many I just mentioned, he is almost certainly the worst at this point in the year.