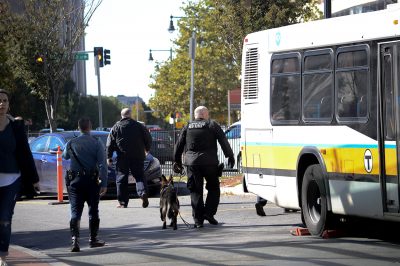 Buildings in and near Kenmore Square were on lockdown Tuesday while the Boston Police Department investigated a report of a male in the area who may have had a gun.
Police initially responded to a report from a third-party caller around 1 p.m. stating that they saw a man with a gun, according to Officer Kim Tavares, a BPD spokeswoman. An airsoft pellet gun was later recovered, but police are still looking for the suspect.
The individual has been described as a white male with a beard and curly hair, wearing a long sleeve shirt with black sleeves with red and black, blue jeans and a bandage on his face.
BPD spokesman Officer James Kenneally said that "people in the area shouldn't feel like they're in harm's way," as police had recovered the weapon the individual is believed to have discarded.
Around 1:20 p.m., Boston University students received an alert from the Boston University Police Department stating that they should avoid the area near Landmark Center in Fenway, where the suspect was initially reported to be. Landmark Center is near BU's Fenway and South campuses.
Approximately 10 minutes later, BUPD issued a shelter-in-place order for Myles Standish Hall and nearby 481 Commonwealth Ave. after reports that the individual was running in the train tunnels through Kenmore Square. About half an hour later, this alert was extended to all buildings in or near the Kenmore Square area.
Following reports that the suspect ran into the BU Barnes and Noble, the building was placed on lockdown for around 20 minutes while police officers and K-9 units investigated. The suspect was not found.
BU spokesperson Colin Riley said the shelter-in-place orders were a "prudent decision for the safety of the BU community."
Around 2:15 p.m., BUPD lifted the shelter-in-place order and told students they could resume their normal activities. BPD has deemed the area to be safe.
Shaun Robinson contributed to the reporting of this article.