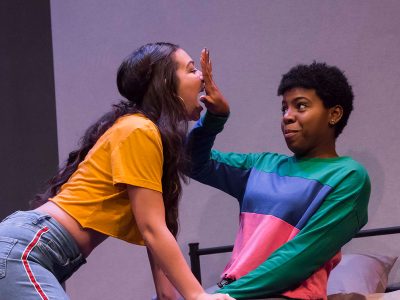 Students and community members gathered at the Boston Playwrights' Theatre to experience the heartache and turmoil five girls face while living in a residential care facility in Texas Saturday night.
Boston University's New Play Initiative's production, "The Tragic Ecstasy of Girlhood," and the post-show discussion encouraged the audience to continue the conversation on heavy and relevant issues.
Written by Kira Rockwell and directed by Leila Ghaemi, the play kicked off the 2018–19 season for Boston Playwrights' Theatre Oct. 11 and will run through Sunday.
The 80-minute character-driven drama focuses on the complex issues five teenage girls face as they enter womanhood. Set in a Texas residential care facility, the girls are forced to collectively cope with their anguish after the suicide of their housemate, Amber.
"One of the main themes of this play is dealing with PTSD and trauma as a woman and how that is treated as an initiation into womanhood because it's so normalized," Ghaemi said.
"The Tragic Ecstasy of Girlhood" begins with Izzy mourning the death of Amber by reading poems and spraying Amber's leftover perfume. Amber's suicide impacts all five girls during the entirety of the play as everyday objects serve as reminders of her life and death.
Each girl is confronted with her individual troubles, and they learn to grow up in a less-than-supportive environment. Mercy is plagued by past parental abuse and feels conflicted when her father shows signs of changing for the better.
Charlie continues to struggle with her mother's death and has difficulty finding a sense of family in her life. Amber wrestles with the loss of her cat and the fact that her biological mother didn't want to meet her. Izzy starts to become more acquainted with her body during puberty, and Audi is still learning to grapple with experiences from the past.
"This happens everywhere, and it's not specific to these girls in Texas," Ghaemi said. "By acknowledging the normalization of it, we are also acknowledging that it should not be normal."
With a cast comprised of diverse women who fit the ages of their characters, Rockwell said she hopes to capture authentic female stories that are portrayed equitably and taken seriously. She said her goal was to break stereotypical femininity by excluding the tropes of young women represented in today's media.
Erica Huang, a senior in the College of Fine Arts, said she liked how this play offered something for every woman.
"No matter where you're coming from, there's something you can connect to," Huang said. "There's a lot of strength that comes from the bonds that form between women, and we can support each other."
Rockwell said her previous position as a recreation coordinator at a similar residential care facility influenced her decision to write the play. She explained she aims to shatter the misconception that these facilities only house problematic children who come from neglectful families and to create a message that calls audience members to further understand this complex issue.
"There are youth that live in group homes like this, and the systems that are set in place to care for them are not good," Rockwell said. "They're human beings who are not set up well, and I don't feel that the government is taking care of families and youth properly."
A post-show conversation was held in the theater to allow audience members to ask questions of the playwright, director, cast members and technical crew.
Rockwell and Ghaemi elaborated on their collaboration process and how the real progress on this production began once actors were cast and able to truly embody the characters. Cast members shared their experiences of working on a production that connected and empowered them toward something relevant in today's political climate.
"I feel so lucky to have been able to be in this room with all these incredible women," Stephanie Castillo, a junior in the College of Fine Arts who played one of the five girls in the home, said in the post-show conversation. "I've never worked on a play before where it's majority women in the room, especially women of color, which I think is so important."
At the end of the day, Rockwell and Ghaemi said that they hope this production ignites a stronger demand for equitable treatment toward women as the issues presented in the play are universal. Audience members left the theater with a few tears and more questions than answers.
Linda Matlack, 61, is an attorney from Miami, Florida, and was part of the near-capacity audience. She said she plans to invite more people to have conversations about suicide, violence and abuse against women.
"The more that we're going to speak about this, the more we're going to work and help our society out because it needs it."
CORRECTION: A previous version of this article misstated a quote was said in an interview with The Daily Free Press. The updated version reflects this.