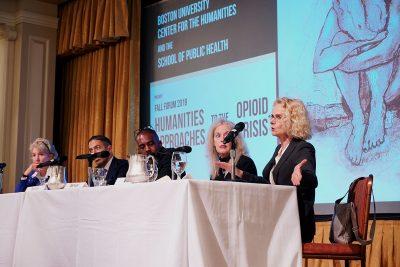 In a crowded room of people, nearly half the audience raised their hands simultaneously. Some timid and others bold, those with raised hands united in the fact that they had personal connections to the opioid crisis.
The audience gathered into the Metcalf Trustee Center ballroom for a discussion Friday night on the opioid crisis and the different approaches to take.
Susan Mizruchi, English professor and director of the Center for the Humanities at Boston University, said she decided with her colleagues to focus the department's forum on "Humanities Approaches to the Opioid Crisis" in June 2017. After months of preparation, the forum ran from Friday to Saturday.
"Literary works and humanities fields are in a position to address some of the most difficult and terrible plights of society," Mizruchi said. "What we are trying to do is bring together people who are all involved in different ways in addressing the crisis and to get them to speak to each other and ideally come up with some new ideas for solutions."
The open roundtable discussion was introduced by Boston University President Robert Brown and followed by a discussion of panelists moderated by Martha Bebinger, health care reporter for WBUR.
The panel was comprised of different perspectives — panelist Samuel Kelton Roberts, a professor of history and sociomedical sciences at Columbia University, shed light on social consequences, and Sandro Galea, dean of the School of Public Health at BU, contributed with statistical data.
Elaine Scarry, Walter M. Cabot professor of Aesthetics and General Theory of Value at Harvard University, discussed false advertising, and Nora Volkow, director of the National Institute on Drug Abuse, provided insight over the topic as a whole.
As each panelist shared his or her standpoint, the conversation slowly shifted from one of a medical and social crisis to one of a pain crisis.
"In some ways, the opioid crisis is a result of the difficulty of understanding another person's pain," Scarry said prior to the panel in an interview. "That difficulty means pain remedies will either be under-prescribed or overprescribed. Prescription drug … advertisements that I studied were … compelling physicians' attention in a way that may have led them to overprescribe."
Scarry shared example images of advertisements she studied that included bright visuals and alluring phrases and helped establish a sense of sympathy for opioid users. The conversation continued to discuss the definition of an addict.
"There is a lot of stigma attached to addiction," Mizruchi said. "Many people just feel a lot of shame and guilt about it. The term 'addict' itself is a cruel term and a cruel way to characterize someone and similar to the term 'slave.'"
The panelists also mentioned the danger of relapse after attempts to eliminate drug use. They delineated the emphasis society places upon abstinence and its key to permanent sobriety.
"Medical advertisements are spellbinding, seductive and coercive," Scarry said. "In some way, [they describe] the nature of physical pain because physical pain is coercive and totalizing."
After the panel discussed options for adequate treatment and prevention, the audience was invited to ask questions. Some questions, such as those of Kimber Chewning, doctorate student in history of photography at BU, centered on the humanities side to the crisis.
"It is really critical [that] the different communities have different skills," Chewning said. "As a humanities person, I definitely think I am uneducated on certain health benefits. From a humanities side, we have certain skills and ways of accessing less data-driven material like shame or empathy that could really help."
The panelists concluded by listing ways the public could make an impact on the opioid epidemic. Many placed emphasis on sympathy, education and understanding within the community.
Mizruchi closed with a brief speech summarizing her purpose and goals in organizing the forum. A reception followed in which audience members cultivated their own discourse and reflected on the lasting messages heard from the panel.
"Issues of contemporary consequence are always a concern for a great university," Galea said in an interview. "Humanities [teach] us through human experience and history. There's much to learn from what people have written, what people have said and what people have experienced in the past."