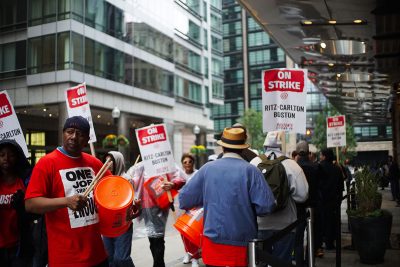 By Clarissa Garza
Boston City Council held a meeting Wednesday where they unanimously voted to support the more than 1,000 Marriott hotel workers on strike in Boston.
The strikers represent eight Marriott-operated hotels, including the Aloft Boston Seaport District, the Element Boston Seaport District, the Ritz-Carlton Boston, the Sheraton Boston, the W Hotel Boston, the Westin Boston Waterfront and the Westin Copley Place. Similar strikes are also taking place with Marriott Hotel workers at locations across eight cities.  
The strike, the first of its kind to take place in Boston, started a little over two weeks ago. Strikers can be found at picket lines, demanding safer working conditions with better compensation and job security under the slogan "one job should be enough."
City Councilors Michelle Wu and Ed Flynn have openly voiced their support for the protesters and urged their fellow city councilors to officially support employees striking against Marriott.
Wu made an announcement, captured in a video on Twitter Saturday, and said she thinks this strike is bigger than the hotel industry alone.
"We are here, as you always are there, not just for yourselves, not even just for other workers in the hotel industry, but for all working families because we cannot stand for a world where one job is not enough," Wu said. "Every person, every family deserves access to affordable health care. Every family, every person deserves access to a predictable work schedule."
Brian Lang, president of the Unite Here Local 26 union, said before the City Council vote that his union is fighting Marriott because they take advantage of workers.
"They make bucket loads of money, they abuse their workers," Lang said, "and have disagreed in every single way with our stated goal that one job should be enough to work in the city, to raise your family in the city and to retire with dignity."
Representatives from other Marriott hotels in Boston refused to comment on the strike.
Carlos Da Veiga, a hotel employee on strike and a spokesperson for Marriott employees on strike, said they will continue the strike until workers' demands are met.
"The strike is strong," he said. "We have a lot of support from politicians, city councilors and unions. We have a lot of local support and we are going to fight until we win this case."
Da Veiga said there have been attempts at negotiation, but none have been successful.
"We've given them our proposal and [Sheraton] has given us their proposal, which we can't accept because it is a disrespect to Boston employees," Da Veiga said. "So, we will keep on fighting until we win this case. No matter how long it takes, we are going to stay until they respect the Boston employees."
Carlos Aramayo, financial secretary treasurer of Unite Here Local 26 union, said he is hopeful that the city councilors' support for the strikers will further the progress of their movement.
"We think that Marriott, the wealthiest and largest hospitality hotel company in the world, has more than enough resources to be able to meet the workers' modest demands," Aramayo said. "We've maintained lines of communication open with the company throughout the dispute, and we're hoping that this added pressure of every elected official in the city of Boston will encourage Marriott to do the right thing to sit down and bargain a resolution for the strike."