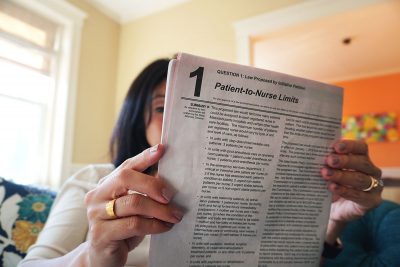 Ballot Question 1 will impact every nurse, hospital and patient in Massachusetts. But, while this initiative is being championed by the Massachusetts Nurses Association — the state's largest nurses' union — nearly every hospital across the state opposes it.
The question, which will be decided on by voters in the upcoming midterm election, proposes that the state set limits on the maximum number of patients that can be assigned to each nurse at a given time. These guidelines will be set based on patient need and carry a fine of up to $25,000 dollars every day a hospital violates the rules.
Taylor Maher, a spokesperson for the Committee to Ensure Safe Patient Care, explained that the union believes maximizing nurse-patient interaction is the only way to guarantee nurses can devote enough time and focus to adequately serve each of their patients.
"Without safe patient limits, medical errors occur, readmission rates skyrocket and the standard of care is not up to par," Maher said. "Patients deserve quality care when in the hospital, no matter where in Massachusetts they live."
However, the Coalition to Protect Patient Safety, which is comprised of seven Massachusetts nurses associations and nearly every hospital within the state, opposes the proposition.
Coalition spokesperson Maddie Clair said the proposal will increase health care costs, lengthen emergency room wait times and ultimately "end up limiting access to care for more residents of Massachusetts."
Boston Medical Center projected that the proposition will cost BMC nearly $28 million and will force the hospital to limit the number of patients it can treat.
"For example, if this ballot question passes," BMC wrote in an email to The Daily Free Press, "… our Emergency Department, which is the largest provider of trauma services in New England, would have to reduce capacity by more than 100 patients a day."
What worries Clair the most, she said, is that the proposal will impose restrictions that she said will severely hinder nurses' abilities to provide the best possible medical care to their patients.
"[The ratios] do not allow for nurses to collaborate with one another and use their skills and judgment to make the right call for patients," Clair said. "So, at the end of the day, it's the patients that will suffer."
It is these ratios that convinced Laura Mylott, a registered nurse and clinical professor at the School of Nursing in Northeastern University's Bouvé College of Health Sciences, to oppose Question 1. She said she is primarily concerned that this "one size fits all" solution cannot sufficiently account for the many elements that dictate nursing assignments.
"RN variables, such as educational level, experience, expertise, certifications for certain kinds of skill sets as well as organizational factors such as the geography of the unit [all matter]," Mylott said. "So, when you just use ratios as your method of determining staff, you are not taking into account all the other factors that do play into … getting the right nurse for the right patient."
Mylott said she thinks, if the proposal were to become law, it would "definitely negatively affect" the quality of medical care in Massachusetts as a whole.
However, a recent WBUR poll of 500 registered nurses indicated that Massachusetts nurses were nearly equally split over the topic. Some supporters of the proposition, like Linda Condon, a registered nurse at Morton Hospital, said the opposing faction does not accurately represent the opinions of local nurses.
"The nurses in 'No on 1' are nursing administration and nursing managers," Condon said. "They are not bedside nurses, so the 'No on 1' coalition is made up of the hospital associations and the hospital executives."
Additionally, Condon said that local hospitals have begun a massive "intimidation campaign" to pressure its nurses and staff into voting against Question 1.
In response to these allegations, BMC wrote that the "No on 1" group had robust and diverse support from medical institutions and nursing associations across the state.
"To characterize the opposition as hospital CEOs and administrators is blatantly untrue," BMC wrote. "Thousands of nurses across the state are No on 1.  Every single hospital, community health center, professional nursing organization, physician organization, and healthcare organization giving direct care to patients in Massachusetts … are all NO on 1."
A recent poll conducted by the Boston Globe and the University of Massachusetts Lowell found that, as of Oct. 10, a slim majority of likely voters opposed the bill, with 51 percent opposing the initiative and 43 percent supporting the patient limits.
East Boston resident Lorraine Richards, 63, said she supports the ballot question because she experienced the value of nurse-patient interaction after "flatlining" at Massachusetts General Hospital.
"They only assigned two [nurses]," Richards said. "Katie had me, then Christine came in and had me at night. The same nurses. You get to know your nurses, you feel safe with your nurses, and you know that you're getting the best quality."
Brighton resident Nick Haggstrom, 26, said he mainly supports the ballot question because it was backed by the nurses' union.
"I'm a union guy, so I'll always vote on the side of the union," Haggstrom said. "Anything the nurses' [union] supports, I'll support."