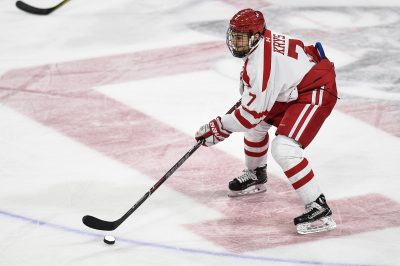 Last weekend was historic for the No.13 Boston University men's hockey team — and not in a positive way as the Terriers (0-2) dropped the first two games of the season for the first time since the 2009-10 season.
BU head coach Albie O'Connell said that despite the outcome, there were good things happening on the ice.
"I think there were a lot of positives, obviously the results we didn't like," O'Connell said. "But I thought our transition game was good, our special teams on balance was pretty good … five-on-five I thought we were pretty good. "
Despite the loss, nine different Terriers put up points against No. 7 Minnesota State University, Mankato, including four assists by sophomore defenseman David Farrance.
The Victor, New York, native recorded a total of nine points while skating in 31 games his freshman season.
Farrance is tied for the conference lead with four points.
"It was a good first two games for us as a team," Farrance said. "Even though we lost, I feel like we learned a lot. Myself, I feel pretty good. I had a good summer of working out [and] getting ready for the season."
Senior forward and captain Bobo Carpenter recorded two goals against Mankato (2-0).
O'Connell said he does not think that junior defenseman and assistant captain Chad Krys will be in the lineup this weekend, adding that it is "nothing major" and Krys "should be back soon."
Krys did not take the trip to Mankato last weekend and had been dealing with a lower body injury.
From the team members who were able to play, O'Connell said he saw mixed performances.
"All and all, I thought some guys had some good weekends," O'Connell said. "Some guys … who played here before could play a lot better."
The Terriers turn their attention to Merrimack College, that — like the Terriers — has a new head coach.
Scott Borek replaces Mark Dennehey behind the bench for the Warriors (1-3).
However, unlike O'Connell, it is not Borek's first season as a head coach. Prior to joining the Warriors, he had eight seasons of head coaching experience.
Borek spent the last 16 seasons as an assistant coach in Hockey East, spending 13 seasons at the University of New Hampshire and three seasons at No. 5 Providence College.
He takes over a Warriors team that has struggled to be competitive in Hockey East recently, as they have not had a winning season in six consecutive seasons.
That does not mean that the Warriors have not been a thorn in the Terriers' side the past few years: two seasons ago, Merrimack swept the then-No. 1 Terriers.
It took until the next season for BU to garner its revenge. Last season, the Terriers came out victorious in all three games against the Warriors.
Junior defenseman and co-captain Dante Fabbro scored four goals last season, which included a hat trick Jan. 19 at Lawler Rink.
O'Connell is aware of the challenge of playing Merrimack at home.
"Merrimack over the course of time have been really good at home," O'Connell said. "Obviously it's a new coach, it might have been a different style, but they're highly competitive … I know they've had some tight games so far, and it's going to be a home opener so we're going to have to match their energy right away.
Like the Terriers, the Warriors have a player tied for the conference lead in points.
Junior forward Tyler Irvine recorded four points so far this season, half of his point total for a season ago.
Senior goaltenders Craig Pantano and Drew Vogler have split time in net this season for Merrimack — the duo posts a 2.25 goals against average and a .900 save percentage.
For the Terriers, junior goaltender and assistant captain Jake Oettinger struggled last weekend against Mankato.
His eight goals allowed is tied for seventh most in the country and tied for first in the conference with Boston College's junior Joseph Woll.
Farrance added that the team wants to come out strong against Merrimack and pick up the team's first win of the season.
"We want to come out this weekend and we want to have a good start to our games and finish them out strong," Farrance said. "We're not happy with our record at all right now, but we're going to try to turn it around really quick."