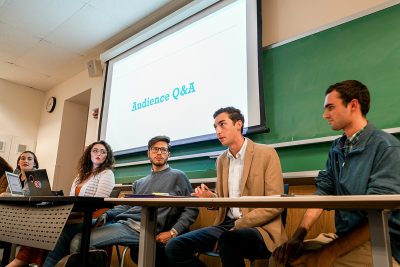 The Boston University College Democrats and BU College Republicans faced off in a debate over fiscal policy Thursday.
The BU College Democrats were represented in the debate by CAS juniors Anna Stroinski and Caroline Brantley, and the BU College Republicans were represented by CAS senior Ben Zabel and CAS junior Branden Cordeiro.
The debate covered a range of topics spanning from populism to free trade to various social issues. The room was full, with some audience members forced to stand in the back of the room.
Up to Us BU hosted the debate. The group's student leader Tallulah Kay, a CAS senior, said the debate aimed to raise awareness about fiscal policy and to collect signatures to send to congressmen "to say that we want fiscal policy that really reflects our interests as millennials."
The debate is a "wildcard event" in the Up to Us campaign, Kay said, organized and executed independently from other branches of Up to Us across the nation.
Both Kay and CAS senior Eva Jungreis, both members of the group, stressed that the purpose of the debate was ultimately to expose students to new ways of thinking and to allow them to form their own views on issues of fiscal policy.
The debate got into questions of universal healthcare, entitlements reform and the minimum wage.
Though government spending is often viewed as a negative thing, Brantley said, spending on healthcare and programs like social security eventually supports the economy.
"We talk about how we spend way too much on healthcare or we spend way too much money on social security," Brantley said. "However, when we contribute money to our economy towards healthcare, towards giving people welfare benefits, that goes back into our economy."
When asked how fiscal policy could be improved, Zabel said his group believes in the free market and that a universal minimum wage would be harmful to the economy.
"We believe that implementing a minimum wage in most cases would distort the market that these current businesses operate in," Zabel said, "and in doing so, strips the individual of the right to work."
Union and collective bargaining rights, Stroinski said, along with the repeal of right-to-work laws, are crucial to providing a support system for workers.
"It's not just about putting money in the worker's pocket," Stroinski said. "It's about supporting them fundamentally, morally, socially. We are on the precipice of major economic change, and either we get in front of that tide or we let it crush us."
Though often opposed, the two groups did find common ground in the debate.
Cordeiro said that both Democrats and Republicans have failed in shrinking the national debt in recent years.
"It's obvious to us that Republicans and Democrats have ignored this pressing issue for decades," Cordeiro said.
Stroinski agreed, citing the growing national debt as an issue that people can agree on regardless of party.
"I think we can both agree that we are spending much more that we're taking in when it comes to the national debt," Stroinski said. "It's unsustainable, it's dangerous, it's gotta get fixed."
DISCLAIMER: BU College Democrats President Anna Stroinski is a former columnist for The Daily Free Press and BU College Republicans member Branden Cordeiro is a sports writer for The Daily Free Press.