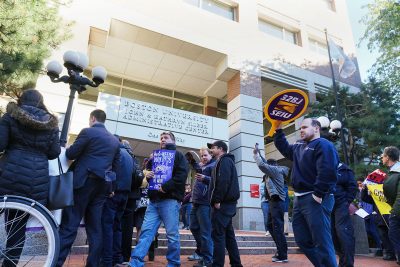 Boston University maintenance staff, janitors and security officers are negotiating a new labor contract with the university. Workers are arguing for affordable healthcare, a fair wage and improved safety conditions.
A march for the new contract was held Thursday in which student organizers and attendees gathered in Marsh Plaza and marched to the John and Kathryn Silber Administrative Center, where BU President Robert Brown's office is located. More rallies took place throughout Family and Friends Weekend.
The march was organized through the 32BJ Service Employees International Union, the union that represents BU's service workers.
Brown said in a statement that he hopes to reach an agreement with staff soon.
"We very much respect and value the vital contributions of our facilities employees and their contribution to the University's educational mission," Brown wrote. "And we seek to provide compensation and benefits that reflect this and that are competitive and fair."
BU service workers' current labor contract, which expires Oct. 31, was agreed upon in 2014 after workers then rallied and threatened strike. In October 2014, BU agreed to the the terms of the contract that included a 10 percent pay raise over four years and an addition of healthcare benefits.
Michelle Nguyen, a freshman in the College of General Studies, said she attended the rallies that took place over the weekend and thinks that BU should provide their staff with the benefits they're asking for.
"My dad is a janitor, so I know how hard they work," Nguyen said. "They definitely deserve more than they get."
Pankaj Mehta, a physics professor at BU, was one of the speakers at the rally Thursday. Although he is not directly involved in the contract negotiations, he wrote in an email that he attended the rally to support other BU staff members.
"BU is prospering and everyone in our community is entitled to a [decent] wage and healthcare," Mehta wrote, "especially the janitorial and maintenance staff that makes the university go."
Mehta added that BU should "strive to live up to the best of the BU ideals."
"I hope that the university will do the right thing," he wrote, "and provide its workers with a fair contract that acknowledges the important contributions these BU workers make to our prosperous and wonderful university."
Amanda Napior, a graduate student in the College of Arts and Sciences and organizer for the BU Graduate Workers Union-UAW, said she attended the rally Thursday in order to show her support for the workers.
"There was clearly a lot of support for this union," she said. "Even a Boston City Council member was there, so that was great to see local government show their face as well with other student groups on campus."
Student groups like the Graduate Workers Union participated to show the union that "we recognize that we couldn't be doing what we're doing without your support," Napior said.
CAS junior Pablo Jimenez said that he thinks BU service workers going on strike would show the public their anger toward the administration.
"I feel like it would show how the school is not working towards them and it would look really bad on the school," Jimenez said. "Just the fact that all the janitors would have to strike it would look really bad on the school and show the disrespect of how the school is treating them that they have to show this extreme."
Jimenez said he hopes BU takes the time to sit down with the service workers and hear their demands.
"If they have an organized meeting," he said, "that's something I would respect."
CAS freshman Anthony Neri said that the demands by the service workers sound fair to him and that his daily life would be negatively affected if the workers go on strike.
"Just getting into my building wouldn't happen," Neri said. "Everything on campus needs that staff."
Neri said he hopes an agreement is reached before a strike.
"I hope [the administration] listen[s] to what these employees have to say, consider their thoughts and come to a decision that takes into account all of the perspectives," he said.