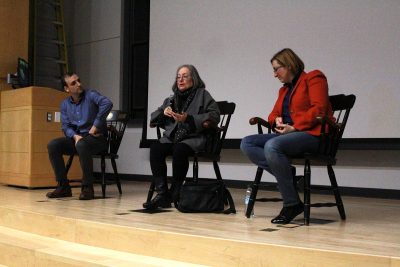 A voice on the speaker broke the silence in the auditorium as the film began to play. A flurry of photographs illuminated the screen alongside interviews that played for the next hour: the moving parts came together to illustrate the memory of Svetlana Boym.
As part of a collaborative effort, the Boston University Department of Romance Studies, Department of World Languages and Literatures and the Ballets Russes Arts Initiative showed a screening of the documentary "Svetlana Boym: Exile and Imagination."
The film depicted Boym's life and outlook and family members, friends and coworkers' memories of her. The audience also saw old interviews and photographs from Boym herself.
Boym was a writer, academic and artist. She emigrated from the Soviet Union to the United States after studying at Herzen State Pedagogical Institute in Leningrad to escape the constraints of the USSR's society for a young, Jewish female.
After arriving in the United States, she received a master's degree from Boston University and a doctorate from Harvard University, where she went on to teach. During her time at the university, she authored numerous books, exploring topics such as motifs of exile and nostalgia.
"The vibrancy of her thought, the kind of playfulness that Judith [the director] spoke about, the creativity with which she approached everything — that's what I think others would take away from her work," said Anna Winestein, executive director of the Ballets Russes Arts Initiative.
The film was directed and produced by Judith Wechsler, a friend of the late Boym. Wechsler said she initially was "apprehensive to make the film." She said she understood the weight of documenting one's life and wanted to do so in a manner that would honor her friend.
For approximately a year, Weschler said she filmed, interviewed and sorted through photographs of Boym in an effort to cultivate a living memory.
"I was grateful for the chance to devote myself to Svetlana and to her work for a year as a kind of homage," Wechsler said, "and then to try and create something that [I] hope is worthy of remembering."
Wechsler and Boym met at Harvard Hillel through a mutual friend. Immediately, Wechsler said, the two connected and began talking, which eventually led to their close friendship.
Boym died in 2015, about a year after she was diagnosed with cancer.
"She meant a tremendous amount to me, and losing her was just terrible," Wechsler said. "The disease was just rampant at the end. It was extremely painful for her parents above all, but also for those very close to her."
In that time, Wechsler said she remembers most "her presence, her liveliness, her brilliance, her insightfulness."
Yuri Corrigan, a professor of Russian and comparative literature at BU, said that he believed Boym's work resonated deeply with immigrants. Because she added memoir-like elements to her writing, Corrigan said Boym's works became personal academic theories.
"Her work on exile and immigration was very interesting to me because I went through a similar process, although I was much younger," Winestein said. "Like her, I'm Jewish, I'm from St. Petersburg. … I certainly relate."
Corrigan commented that Boym's pieces connected to a wide audience beyond solely immigrants.
"[Her work speaks to] all of us who are in the modern world who are overwhelmed with nostalgia," Corrigan said.
Monday's screening in the Photonics Center was the first time Corrigan saw the documentary. In the past, he said he read some of Boym's works and said he related most to "The Future of Nostalgia." The film opened his eyes to Boym's personality outside of her writings.
Wechsler's goal in creating the film was to bring an understanding of Boym's personality and story. Since the film's release in 2017, she said she has received feedback that suggests she accomplished this goal.
"People who knew her have responded very warmly and enthusiastically, it brings her back," Wechsler said. "Those who don't know her feel they are introduced to someone they didn't know about before. [When] people who saw the film say, 'Oh, now I'll start reading her,' that's the best thing."