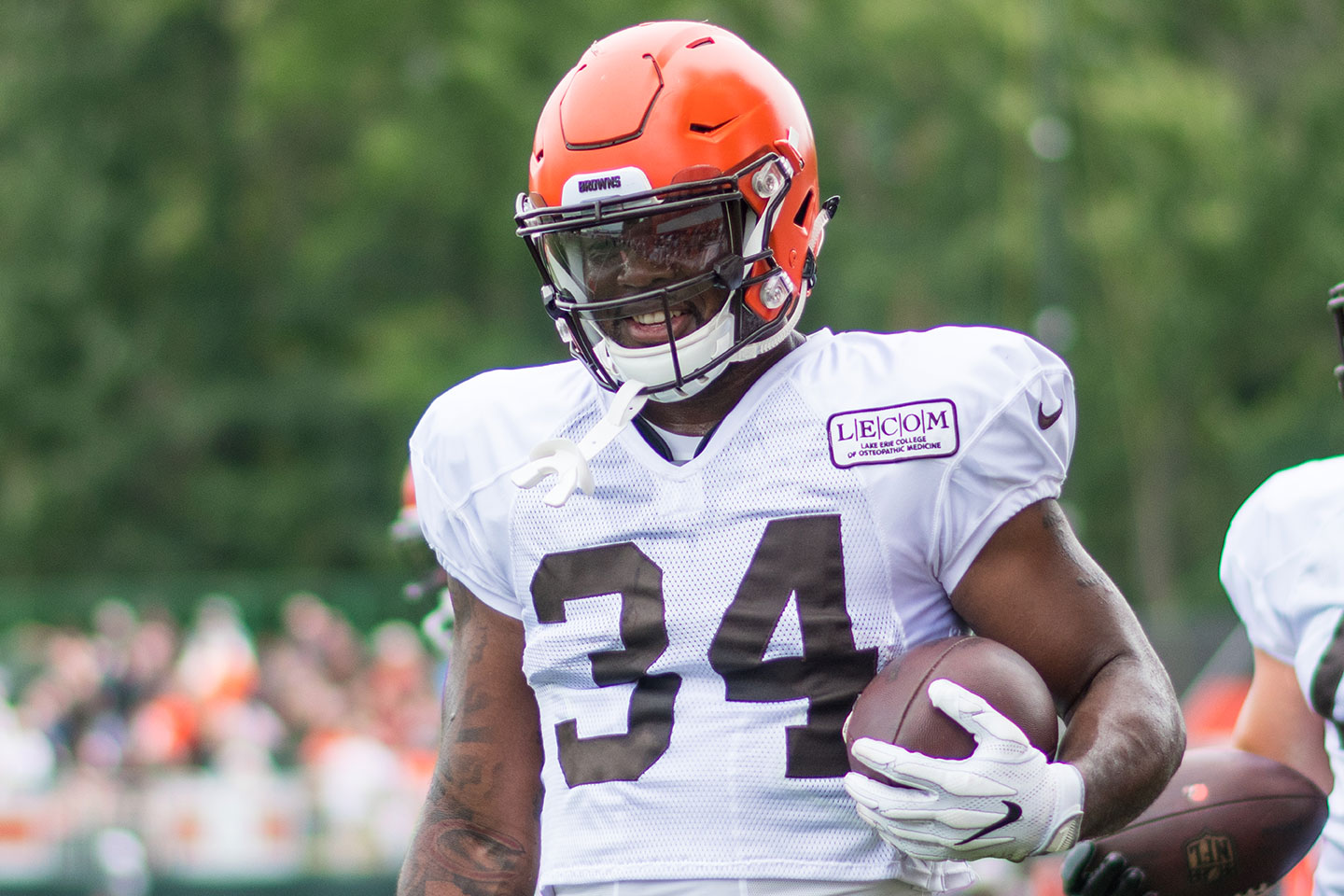 This has been an odd fantasy season so far, and part of it has been due to the plethora of bizarre trades — notably, Carlos Hyde to the Jacksonville Jaguars and Amari Cooper to the Dallas Cowboys.
Now, for Hyde and his owners, this completely damages his value. Because of the plethora of talent for Jacksonville, there is a logjam at the running back position. Leonard Fournette will return Week 10 and render Hyde useless. Both backs are power backs and T.J. Yeldon will be the pass-catching back. The only time the now-former Cleveland Brown would be worth a start is when Fournette misses a game solely due to his ability to score from inside the five. Like you, I was completely blindsided by this and have lost my RB2 to become a change-of-pace back in two of my three leagues.
But now Cleveland houses talented running backs who will surely benefit from Hyde's departure from the team. Nick Chubb has already exploded a few weeks ago for 105 yards and two touchdowns in one game and looked very dependable on the ground with 18 carries and 80 yards with a touchdown. Duke Johnson will also see an uptick of value, especially in PPR leagues. Chubb, for the time being, has zero catches in his career, Johnson's specialty. Knowing that Hue Jackson is still head coach of the Browns for whatever reason, Cleveland and Baker Mayfield will be behind and in need of a passing back like Johnson.
Simply put, Hyde is the only person here to be negatively impacted by this trade where Fournette and Yeldon remain neutral. The Browns RBs have gone from somewhat forgettable to starting-caliber players. Fantasy is weird sometimes.
Anyway, moving on to the most controversial transactions was the Oakland Raiders' trade of Amari Cooper to the Dallas Cowboys for a first-round pick in next year's draft. From a football perspective, I am surprised at Jerry Jones' lack of ability to recognize that the Cowboys are just not a playoff team — even with Cooper.
But this is a fantasy column and not a rant about the questionable moves NFL executives seem to make on what seems like a monthly basis.
Cooper's value will, well, go up a bit, because his performance on the Raiders so far this year with questionable coaching and a stagnant unit has been underwhelming to say the least.
The Cowboys are not a high-powered passing offense and never will be thanks to the presence of Dak Prescott, who is dependent on scrambling and dump-off, slant type passes. It must be recognized that his pairing with Dez Bryant never worked and could be an obvious argument against this trade.
As for everyone else on these teams other than Cooper, Prescott will surely garner more attention, but not enough to start in 10 and most 12-team leagues. That offense is run through Ezekiel Elliott, no ifs, ands or buts about it.
For the Raiders, Derek Carr, who wasn't startable anyway, is unusable now, but players like Jordy Nelson and Jared Cook are officially somewhat usable. Martavis Bryant was always on the outside looking in, but with Cooper gone as a deep threat, it would not be unreasonable to expect several Hail Mary balls going his way as the season progresses. Jon Gruden is a questionable coach and general manager, but in this case he absolutely fleeced Jerry Jones for a first-round pick.
Looking at it from a fantasy perspective, thank goodness Jerry Jones is not co-managing any team with me in any of my leagues.