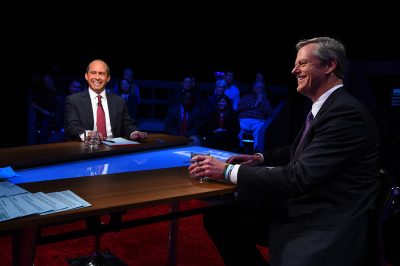 With the midterm elections less than two weeks away, Massachusetts candidates are looking for any way to get their messages out to the public before Election Day on Nov. 6. Both gubernatorial candidates and senatorial candidates agreed to participate in three debates leading up to the election.
The first two gubernatorial debates occurred on Oct. 9 and Oct. 17 between Republican Gov. Charlie Baker and Democratic challenger Jay Gonzalez. Senatorial candidates Sen. Elizabeth Warren and Republican challenger Rep. Geoff Diehl debated on Oct. 19 and Sunday.
Baker and Gonzalez will face off again on Nov. 1, and Warren and Diehl will have their third debate Tuesday.
Political debates have long been a way for the public to hear candidates answer questions on the spot from both their competitors and constituents. Ian Kea, policy and communications manager for MassVOTE, a non-profit organization that promotes political participation in Massachusetts, said debates "absolutely" have an impact on voters.
"I think it allows for an incumbent to be challenged on their current stances and really be put on point," Kea said. "There are a couple points [during the debates] where Baker had some stumbles, and Gonzalez had some stumbles because of the previous administration that he was in."
Kea added that because midterms have a "bad rep for low turnout," candidates have to work harder at effective outreach, something that participating in debates and keeping a good social media presence can help.
"I think, with these public forums, you can ask them these hard questions really on the spot and really be able to see how they react and how well they are prepared," Kea said. "But as someone that handles [communications] and policy, I can tell you that the best way to get out there to people is definitely through social media."
Kate Zachry, news director of WGBH News, wrote in an email that she thinks social media is an effective method of political communication. Whenever WGBH hosts a debate, Zachry wrote that they typically see a large increase in social media engagement, which she believes is "indicative of audience interest."
"Most social media commenters will post about the issues that arise from the debate," Zachry wrote, "but some get in touch to thank us for providing the debate."
The gubernatorial debate was the most watched out of the 12 debates WGBH has hosted this election cycle, according to Zachry. The debate, Zachry wrote, which was streamed online and broadcast across multiple television stations, defied viewership expectations.
"In terms of digital viewership, over 17,000 people viewed the content across the web, Facebook, and Twitter," Zachry wrote, "and we expect the online viewership to grow even more as the election approaches."
She wrote that she believes this represents the audience's desire to be politically engaged.
"The high viewership of these debates demonstrates that there are a lot of people tuning in to better inform themselves on the issues before casting their vote," Zachry wrote.  
For incumbents, Kea said public debates and forums, where they have their current policies challenged, are important in making sure the candidates are never too comfortable.
"This is really about being prepared on the spot, seeing if you candidate really knows people," Kea said. "It shows whether your candidate is prepared or willing to talk about in detail their legislative agenda."
As a whole, Kea said, the debates were "vitally important."
"I think the more debates the better," he said. "It really does give the public a real clear understanding of 'is my candidate really for me?'"
Debates not only help inform voters, but they also strengthen community civic life and civil discussion, Zachry explained.
"One of the most unfiltered ways for our audience to become more informed participants in this public dialogue is by hearing directly from political candidates via a debate," Zachry wrote.
Edward Heraty, 78, of Waltham, said he tuned into the gubernatorial debates and was impressed by Baker.
"After each program, I stay at the same mind," Heraty said. "I guess I made up my mind earlier, and I'm staying with it. Usually, I'm a Democrat, but I might stay with Governor Baker. I don't think he did anything to deserve to be elected out."
Brendan Chellis, a Kenmore resident, said the debates are only helpful if he needs help making up his mind.
"Debates, in general, if I am undecided, I will watch it," the 52-year-old said, "but, in this case, I feel pretty strongly about both of them, so I didn't watch any of the debates."
Averil Svahn, 54, of Salem, said the debates can be more harmful than helpful.
"The debates make me insane," Svahn said. "They never seem to answer the question. [The candidates] are always pointing the finger. They really need to tell us where they are coming from."
Mia Cathell contributed to the reporting of this story.