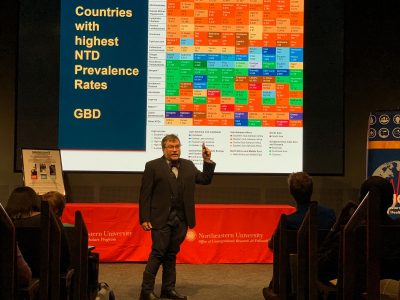 Northeastern University welcomed undergraduate students and Bostonians to campus for an inaugural global health conference Friday and Saturday. Any interested parties were welcome to register for free and partake in the discussions around accessible healthcare.
Dr. James Cusack, a Massachusetts General Hospital surgical oncologist, gave a keynote presentation at Northeastern University Global Health Initiative Saturday. Cusack touched on the tendency for many Americans to overlook those who cannot afford healthcare and associate inaccessible healthcare with developing countries.
Cusack explained that the reality is unaffordable health care exists in first world countries, as well.
He said he initially developed a passion for public health and medicine during his years of schooling at Dartmouth College, Emory University Medical School and University of North Carolina at Chapel Hill.
"I hope students walk away [from my speech] with an informed sense of what the challenges are and a better sense of how they can contribute individually," Cusack said in an interview.
NUGHI was started by Kritika Singh, a junior studying bioengineering at Northeastern, who expressed similar hopes. Singh said she collaborated with her fellow students and staff to create a conference aimed around uniting individuals passionate about the field of public health from all around Boston.
Northeastern junior Abby Melagrano attended this conference after she said she was inspired by her "Epidemiology of Pandemic Diseases and Health Disparities in the African Diaspora" course. As an international relations major, Melagrano shared that this course was very different from her norm, but interesting nonetheless.
Cusack was accompanied by the second guest speaker of the conference, Dr. Peter Hotez, Yale graduate and a professor in Baylor College of Medicine.
"We read some of Dr. Hotez's work last week, so this conference will be very relevant to what we are learning in class, as well," Melagrano said.
Cusack's address primarily focused on methods of understanding the challenges humans face in global health and novel surgical advancements, and Hotez discussed major topological diseases and the various strengths needed for successful change in global health.
"One of the things I'll make clear is that any undergraduate major or minor has potential applications to global health," Hotez said. "A lot of people think you have to be a biology major to be on the pre-med track. You don't have to be."
Over the years, Hotez said he has developed vaccine packages that have provided over 1 billion U.S. citizens with a bundle of vaccines. He noted the range of experts this process required.
"One of the biggest problems with vaccines is not having a good business, economic model or legal framework," Hotez said.
Cusack said those interested in working as global health advocates have a broad range of career opportunities, including in law, medicine, business and political science. These fields are tied together by a dedication to helping others, according to Cusack.
"It's very exciting that this next generation has taken such a keen interest in people they don't even know but that they understand are in need," Cusack said. "Creativity and innovation inspire us to get more involved. Collectively, we can really make a difference."
NUGHI Coordinator and Northeastern University senior Hugh Shirley said that one of the chief purposes of this conference is to highlight the spectrum of talents required to truly make a difference in the field of global health.
"We want students to learn how they can best interact with global health," Shirley said. "We really want to highlight the true interdisciplinarity of global health so our workshops were designed to be more interactive."
Hotez said he appreciated the interdisciplinarity and was optimistic for the future generation's role.
"I've seen commitment to public service amongst young people at an all-time high," Hotez said. "It's just a matter of now providing applicable career paths to pursue those kinds of dreams."
The NUGHI board and speakers alike expressed confidence that such events will continue to ignite change within the global health sphere.
"We want to create a lasting impact in global health care," Hugh said. "This is something we would like to continue in the future."
When asked about the future of public and global health, Cusack stressed the importance of education.
"Education is critical to our health, and most of us don't take advantage of it," Cusack said. "We need to start paying more attention."