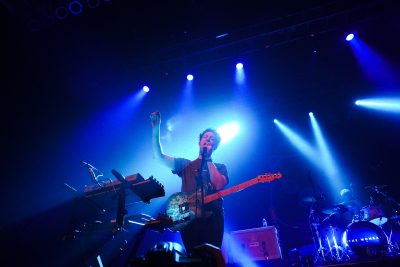 Musicians face critics searching for what's wrong with music's most popular faces. But subjective quality aside, any band can make up for a lackluster single or album with a captivating live show.
Katy Perry, for instance, is panned by critics and listeners alike, but if her 2015 Super Bowl performance can turn a dancing shark into a meme, she's doing something right.
Even if a band is not universally lauded by snide, pompous critics, popularity can be their saving grace.
Then there's The Wombats. The indie rock band formed in 2003 when the band members met each other at the Liverpool Institute for Performing Arts. After three years as a group, composed of Matthew Murphy, Dan Haggis and Tord Øverland-Knudsen, they released "A Guide To Love, Loss & Desperation," which became platinum-selling.
Years later, they had more than a handful of U.K. Top 40 chart singles and won an NME award in 2008.
It's a cute story that almost resembles that of Radiohead's, but with a key difference. Radiohead was nominated this year for their induction into the Rock and Roll Hall of Fame after a previous nomination, while The Wombats are just, well, The Wombats.
Perhaps the band wanted to celebrate their rise within the indie rock scene with this tour, which features a 19-song set list, including encore (yes, you read that correctly). The collection of tracks pulls from each of the band's four studio albums, but primarily its 2018 release "Beautiful People Will Ruin Your Life."
For fans who weren't along for the band's 15-year ride, their banal concert at the House of Blues Wednesday night might have left no emotional dent whatsoever. They're hardly different from bands like Two Door Cinema Club or Dance à la Plage.
In layman's terms, there's nothing terribly unique about The Wombats' music, especially live.
Perhaps the biggest standout of the night was the opening performance by Barns Courtney. Most known for his viral single "Glitter & Gold," he did his best to maximize his small timeslot. During his final number, he encouraged the audience to touch the ground and then rapidly rise up as the chorus started, and it worked.
Just before the finale, he also experimented by trying a call-and-response vocal improvisation bit, channeling his inner Freddie Mercury. He may not have been performing at a packed Wembley Stadium, but he proved he knows how to work a crowd.
After the excitement wore down, The Wombats took the stage and started with "Cheetah Tongue," the opening number of their new record. As predicted, the audience was ecstatic. But aside from the familiar music they paid to hear, there was nothing else to grab the attention of spectators, aside from the lighting patterns.
This pattern continued throughout the band's monstrous set list. There were no audio-visuals, no invitations for fans to come onstage, no standout solos or improvisation (with the exception of a sub-10-second drum solo). It was a painstakingly corporate, stick-to-the-script performance.
With 19 back-to-back British indie rock singles, the concert felt like a lazy soundtrack to a FIFA video game.
There was no better evidence of this than when the band closed their main set with their most popular track "Let's Dance To Joy Division." The performance was fine until halfway through, when four dancers dressed in wombat costumes took the stage, making trite air guitar gestures.
At least the shark-dressed dancers at Katy Perry's aforementioned Super Bowl performances showed a lick of enthusiasm.
The show did feature some small interjections from the band, though. Lead singer Murphy said he knew the Red Sox would win their World Series game against the L.A. Dodgers at Fenway that night (and they did).
Later in the show, the other band members joined each other in recounting their Boston stories, particularly one about a 17-person gig in Cambridge that led to crowd-surfing contests followed by a Chinese dinner they said was the worst they've had as a band.
It was refreshing for the members to add an air of personality to a concert void of any distinct personality. Call it pandering if you want, but it at least demonstrated that they're Boston fans and that the city itself left a large impact on them.
Negative aspects aside, The Wombats' numbers can't be denied. Even with a vapid performance, the band is still one of the biggest names in their field. And the support of the band's fanbase showed in the energy of the crowd.
The band members also showed how likeable they are. It's just a shame that none of their charisma showed during their performance.
It's a simple breakdown. If you're a fan of The Wombats, great! I'm glad you enjoyed the show. If you're not that into the band, I wouldn't have judged you for walking out early.