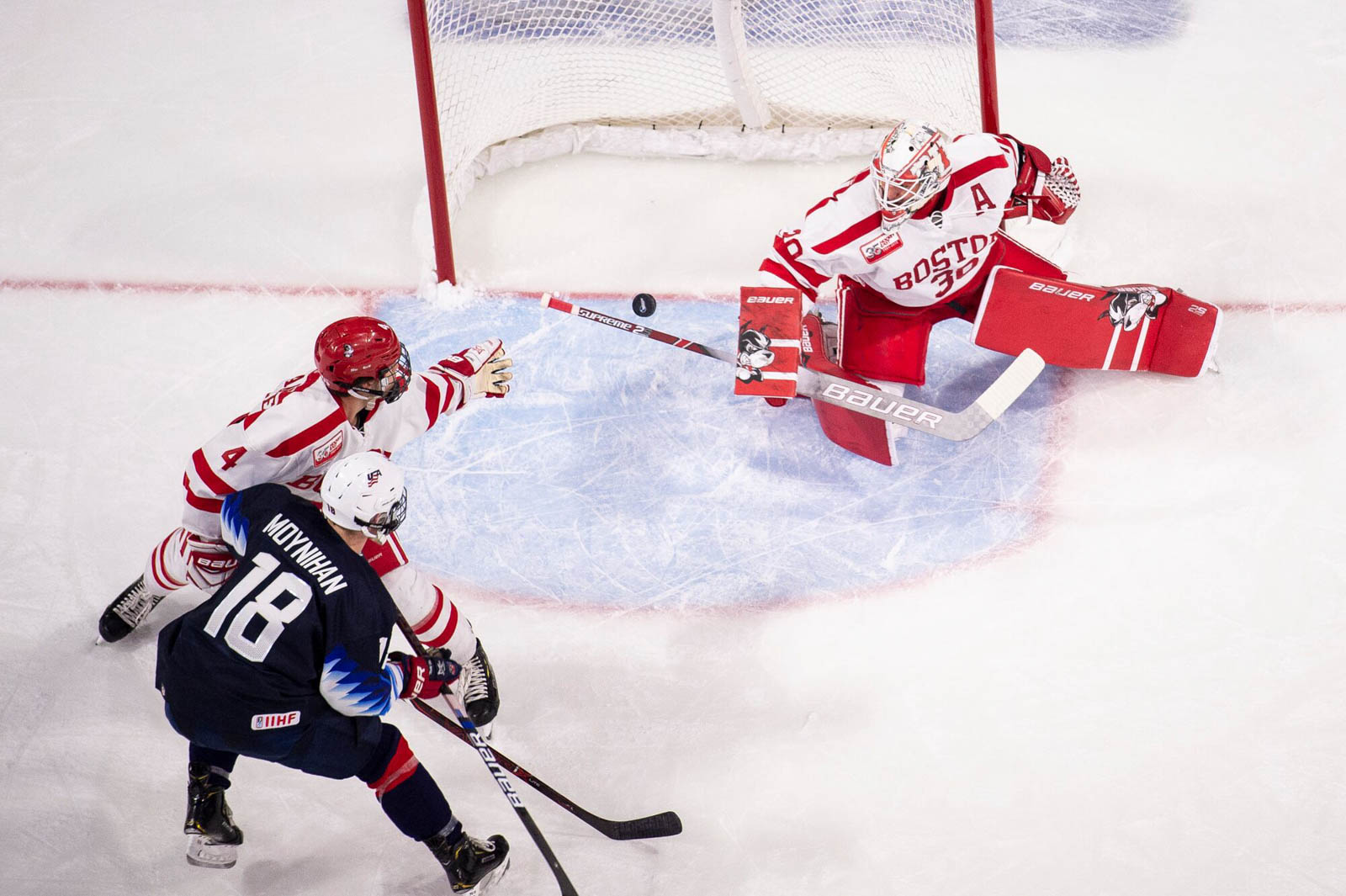 Friday night's tilt between the Boston University men's hockey team and the U.S. National Under-18 Team gave the Terriers (0-3, 0-1 Hockey East) their second exhibition win of the year, but it did not come easy.
Watching a group of American high schoolers fly around the ice and make life tough for a Terriers unit, with what BU head coach Albie O'Connell described as a full team's worth of NHL talent, displayed that the collegiate ranks are in good hands moving forward.
Of the 23-man roster, all except two are committed to play NCAA hockey with four committed to play at BU.
"It's amazing," O'Connell said. "It's very similar to the year [Auston] Matthews, [Matthew] Tkachuk, [Jordan] Greenway, that 1997-born team. [Charlie] McAvoy, [Noah] Hanifin, [Zach] Werenski, talk about household names in the National Hockey League. They've got a similar team."
BU eked out a 5-4 overtime victory, but the team was outplayed at points by the upstarts in the blue uniforms.
The Terriers were outshot 39-35 and saw a 4-2 lead erased in the latter stages of the third period.
"They're so fast and so skilled," said sophomore forward Shane Bowers. "Even though they are two years younger than us, they can compete and catch you off guard if you take them lightly."
U18 Forward Judd Caulfield scored the first goal of the game 52 seconds in off assists from forwards Trevor Zegras and Jack Hughes.
At the start of the second period, it was U18 forward Matthew Boldy scoring on a power play off feeds from Zegras and defenseman Cam York.
Then, within a minute of each other in the third period, U18 defenseman Alex Vlasic scored via Zegras and Hughes and forward Owen Lindmark netted one from forward Ryder Rolston to send the tilt to overtime.
In the end, it took Bowers, a Canadian, to save the team in overtime.
Despite the border rivalry, Bowers said he looks forward to seeing several of the players again — as teammates.
"I think they're going to be great contributors for us next year right away as freshman," Bowers said. "They all play a big role on that team, so I expect them to do the same next year for us."
Zegras and Vlasic are committed to play at BU as are defensemen Cade Webber, Case McCarthy and Domenick Fensore.
Boldy, forwards Patrick Moynihan and Danny Weight, defenseman Drew Helleson and goaltender Spencer Knight will all be playing down the street at Boston College.
"It doesn't happen every year with every birth class," O'Connell said, "but the 2001 birth class in the United States is as good as it's been in a long time."
Harvard University has three commits on the team while forward John Beecher is headed to play with University of Michigan, who edged by BU in the Northeast Regional in March, and Rolston is bound for the University of Notre Dame.
In past years, the Terriers nabbed juniors defenseman Chad Krys and goaltender Jake Oettinger along with former forwards Clayton Keller and Kieffer Bellows from the 2015–16 iteration of the national team.
Sophomores defenseman David Farrance, forward Logan Cockerill and current Ottawa Senator Brady Tkachuk came from the 2016–17 team.
From last year's group, BU brought in forwards Joel Farabee, who captained the team, Jake Wise and Jack DeBoer.
The Terriers are not the only team that has been given fits by the Under-18 Team, and while they came away with a win, some of their counterparts have not fared as well.
"They gave us a good fight, and they're a hell of a team," Bowers said. "I think that's why they've been able to beat some higher ranked college teams."
On Oct. 7, the team beat the number-one ranked team in the USCHO poll, the Fighting Irish, 4-1. Five days later, it beat the No. 12 Wolverines.
After falling to the Terriers, the Under-18s picked up right where they left off with consecutive victories over Harvard and Dartmouth College.
The BC commits dominated the win over the Crimson Saturday night as both Moynihan and Boldy scored.
Monday night, the BU guys took their turn against the Big Green as Zegras scored twice and Vlasic had an assist.
"It's great," O'Connell said. "It's great for USA Hockey. It's great for the National Development Program. Obviously, USA Hockey is making strides, so it's exciting … We'll be seeing those names for a long time."