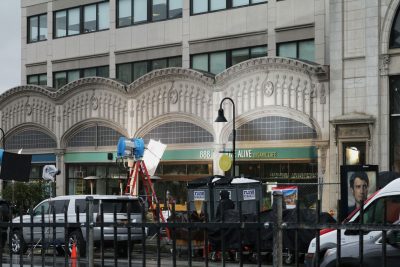 The Mark Wahlberg-fronted movie "Wonderland" has been filming on Commonwealth Avenue near West Campus this week, attracting the attention of many Boston University students.
The Netflix mystery/crime film, based on Ace Atkins' "Robert B. Parker's Wonderland," is about an ex-convict investigating a murder conspiracy in Boston.
BU spokesperson Colin Riley clarified that while many students regularly pass through the section of Commonwealth Avenue where "Wonderland" was filming, the series is not filming on BU's campus.
"We have not coordinated with the production, the production company or the City," he said. "They're filming on public property — sidewalks, city streets, etc."
Riley said many students are interested in the filming as it is a big Hollywood production.
"Of course, it's a little bit of a disruption," Riley said, referring to the congestion on the stretch of Commonwealth Avenue where production is taking place. "But there's always occasional disruption with traffic, construction and other things."
Film production is not uncommon in Boston, Riley said, and a lot of filming occurs on Commonwealth Avenue in particular.
"Wonderland" features BU alumnus James DuMont, who attended Boston University between 1983 and 1985 before moving to New York City to pursue acting, said Charles Sherman, Dumont's agent.
Ellen Buchanan, a sophomore in the College of Arts and Sciences, said she saw production outside of T's Pub while walking to an 8 a.m. class.
"I'm from Atlanta, and people film things all the time there because they don't tax it," Buchanan said. "So I'm kind of used to people being everywhere, like the trucks and the crews, but it's cool that they're here."
CAS freshman Timothy Zhu said he walked by the production and saw it being filmed but didn't know what was happening until people told him.
"I was a bit annoyed at first because the campus shuttle had to be parked somewhere farther, and it's cold," he said, laughing. "But it's a once-in-a-blue-moon opportunity. So it was nice while it lasted."
Some students said that they would have been more excited had they been Wahlberg fans. Buchanan and Zhu both said they knew of Wahlberg only marginally.
"I don't think I've watched any of his movies," Zhu said. "He's just somewhere there in the back of my mind."
Other students, including CAS junior Alec Vaughn, said they were excited about the prospect of viewing a series shot so close to campus.
"I'll probably see it," Vaughn said. "I'm a big Mark Wahlberg guy."