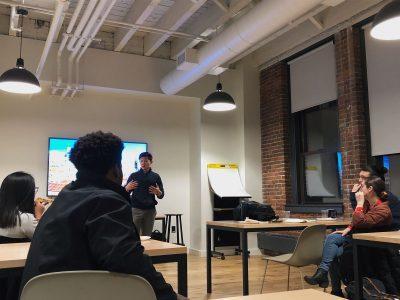 Boston college students spent Thursday evening collaborating and sharing business venture ideas under the guidance of professionals from a venture capital firm. Kirk Aleman and Priten Shah, and founders of DryErase Ventures, listened to the students' pitches and provided them with insight they gained from working in the field.
As attendees learned the ins and outs of venture capitalism, Cailey Newton, a junior at Emerson College and executive director of UNIfy, said they boosted each other up as future entrepreneurs and professionals.
The talk and night of networking was hosted by DryErase Ventures in partnership with UNIfy, formerly known as InnovateEDU, an organization comprised of college students across Boston seeking to encourage and support student entrepreneurs.
DryErase Ventures is a venture capital, or VC, firm that helps individuals, particularly students, launch businesses. The pair gave advice regarding the VC process to a packed room of students from various Boston-area universities.
Greater Boston venture capitalism accounts for nearly 10 percent of all VC investment in the United States and is ranked fourth in locations of greatest venture capitalism in the country, according to a 2016 article by CityLab.
College innovators chowed down on complimentary pizza and had the opportunity to give two-to-three minute pitches in front of Shah and Aleman. The duo dished out critiques and taught students how to better connect with their VC audience.
They encouraged those in attendance to reach out to discuss their ideas further and stated they would provide additional mentorship and guidance.
Aleman said he is driven by his ability to help students.
"It just feels nice to be able to help budding entrepreneurs and see the look in their eyes of, 'I really have something' or, 'I really need to work on my idea,'" Aleman said. "But, what we're all about is giving resources to individuals and not keeping it so secluded."
DryErase Ventures was initially created to help achieve this objective, according to Aleman.
"We've seen for years how underserved founders aren't getting enough money for their ideas," Aleman said. "People see them and discount them automatically. They don't have the right connections, they don't have the right resources."
Aleman said the pair felt frustrated after seeing numerous new entrepreneurs struggle from a lack of guidance.
"We're going to change that," Aleman said. "We want to provide the resources to underserved founders. We want to listen because a lot of times, they don't have anybody to pitch their ideas to or anybody to rely on."
Newton said the organization's goal is to "break down silos amongst entrepreneurs so we can facilitate cross-campus collaboration."
"You have four years to interact with over 100,000 students, and 100,000 who attend over 100 different universities in the Greater Boston area," Newton said. "UNIfy believes that it's really finally getting people in a room together and providing those resources to do that."
Newton emphasized UNIfy's priority to provide resources to students by lowering barriers they face when seeking to pursue their own business endeavors.
"That's through being student-run, … by partnering with different organizations where they have a network or by partnering with clubs on each of our campuses," Newton said.
She said she thought the event at WeWork was productive because students began to share their ideas and pitches with one another, and the atmosphere in the room became "magical."
Attendees' enthusiasm when sharing ideas created a domino effect, Newton said.
"This event did really well," Newton said. "We're able to think about those people who can help us solve those problems or think about the right place to go or the right resources to tap into in order to equip ourselves to solve those problems."
Mariana Apéstegui, a junior at Emerson College who is majoring in marketing communications, is a member and former team manager of UNIfy.
Apéstegui said she was pleased with the ideas attendees brought for the pitches.
"I thought some of them were really interesting, and I hope that [students] pursue their ideas," Apéstegui said.
Shah advised students looking to go into venture capitalism to push themselves.
"Just don't settle," Shah said. "I think that's universal advice to any college student … try something new, take a risk, and it will probably work out."