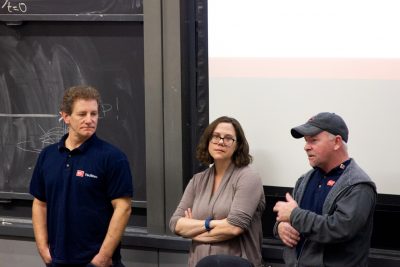 Boston University's Student Government met Monday night to hear from BU's service workers on their current contract negotiations, confirm a new judicial commissioner and hear a proposal on providing storage for BU student organizations.  
SG Senate Chair Andrew Chiao began the meeting by discussing recent national events, including the Tree of Life synagogue shooting, package bombs that were sent to prominent Democrats and the recent shooting in a Kroger in Kentucky.
Chiao told the senators that ignoring these issues would be akin to "siding with the perpetrators of violence."
"I counsel and encourage all of you to speak up and speak out against anti-Semitism, racism, political divisiveness and have conversations," he said. "Be vocal. You are senators. You are vocal people."
Arthan Bhatt, a sophomore in the College of Engineering, said it was good to be reminded of bigger issues occurring outside of BU.
"Even though we are students on campus, there [are] more issues and more events in the world and tragedies that we do have to speak about, and we have to start that conversation here at the university," Bhatt said. "As more knowledgeable individuals, we can make a change on our own."
SG President Devin Harvin echoed Chiao's desires for senators to speak out on these issues in his presidential address, as well as to encouraging senators to participate in a phone bank for the Yes on 3 campaign and continue their dedication to their elected positions.
November is when attendance to SG meetings gets "spotty" for many senators, according to Harvin.
"I encourage you to remember your commitment and why you're here," he said. "We are here for a reason, and we're all excited to be here."
Harvin also told senators that the SG communications director position was now open, formerly occupied by Nehemiah Dureus, a senior in the College of Engineering. He encouraged senators to tell their friends and peers to apply.
The senate then heard from the 32BJ Service Employees International Union New England 615 on their current contract negotiations with BU administration. Union organizer Kathleen Collins said the union is fighting for affordable health care in their contracts, which the administration is threatening to take away from them.
Service employees shared their stories on how a good contract would impact their lives.
Mark Harrington, a grounds worker at BU who is a member of 32BJ SEIU, told senators how the health insurance he has under his current contract, which is now under negotiation with the university to be stripped away, has helped him economically.
"Two years ago, my wife broke her tibia and fibula in the fall, and then my daughter had a scheduled heart catheter in January," he said. "That would have been $10,000 out of my pocket. Not a lot of people just have that lying around. It's something that's near and dear to my heart, and it's my focus to bring up these bad scenarios that could happen to people."
Collins invited senators to attend the union rally Tuesday at Marsh Chapel, which she said Boston City Councilor At-Large Ayanna Pressley will also attend.
Andrea Gomez Gonzalez, a sophomore in the College of Arts and Sciences, was then unanimously confirmed as a judicial commissioner for the senate.
The senate then heard and discussed a proposal from Aditya Jain and Delaney Swann, both sophomores in the College of Engineering, for a new SG Store All Future Equipment Act, also known as the SAFE Act.
The proposal would give student clubs and organizations a space to store club materials during the year and over the summer, fully funded or subsidized by the student government, according to Chiao.
A majority vote decided that further discussion of the proposal would be tabled until next week.
Audrey Martin contributed reporting.