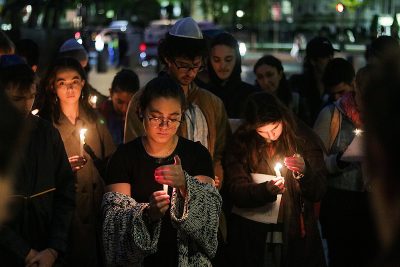 Boston University administrators and religious groups are attempting to comfort affected community members in the wake of Saturday's mass shooting at the Tree of Life Synagogue in Pittsburgh, Pennsylvania.
BU President Robert Brown wrote an email to the BU community Monday stating that the university mourns the Pittsburgh synagogue's losses and that BU's mission of education can help increase tolerance and avoid such hate crimes.
"Our duty as members of an academic community remains the same: to seek the knowledge that enlightens and that can transform attitudes and that can make us safer—ever in a spirit of tolerance and generous understanding," Brown wrote. "We carry on in this task, recognizing that intolerance and hate have been present in every time and place."
BU spokesperson Colin Riley described the shooting as a "horror" in an email to The Daily Free Press, and wrote the administration is thinking of people affected in the aftermath.
"It's unfathomable," Riley wrote. "I wish there was something comforting or profound to say, but words are inadequate as they were after the shooting at the historically black church in Charleston, South Carolina, three years ago. We're thinking of and praying for all the victims and survivors of this evil act, and for all our Jewish colleagues and friends."
Deni Budman, director of media for the BU Hillel Student Board, said their staff always have their doors open to students, but are currently making an extra effort to meet with students and ensure their well-being in light of the Pittsburgh shooting.
"The community has really come together because there's this mutual understanding," Budman said. "We're all going through the same thing. You don't have to say a word, and we understand the experience we're all having."
The shooting hit home for Budman because "it could have been anyone," she said.
"It could have been my parents, my grandparents, my neighbors," Budman said. "It could have been me. The Jewish community in Pittsburgh is the same as the Jewish community at BU Hillel, or my community at home, so it really is close to home."
People of all faiths paid their respects at a vigil at Marsh Plaza Monday evening, coming together to support the lives lost and the Jewish community on campus and around the country. The vigil was organized by BU Hillel.
The vigil provided an atmosphere of tolerance and peace, BU Hillel Student Board Secretary Benjamin Levy wrote in an email.
"Hillel students, like many other students and groups on campus, are in collective mourning over the deadliest Anti-Semitic attack in the history of the United States," Levy wrote. "Many of us, myself included, are still attempting to process the unbelievably tragic loss, given that it happened to members in our community."
The vigil featured speakers representing BU Hillel, Marsh Chapel and the BU administration. Students with connections to the Tree of Life Synagogue, Ariel Stein and Megan Markovitz, spoke at the vigil as well.
Hannah Levin, a sophomore in the Sargent College of Health and Rehabilitation Sciences who attended the Monday evening vigil, said she is grateful for BU's response following what happened in Pittsburgh.
"I thought it was really beautiful and meaningful that BU and BU Hillel put [the vigil] together and that that so many people, Jewish and non-Jewish, showed up," Levin said. "Any type of response is meaningful, so that they not only spoke to it but are willing to meet with students one-on-one and organize something for the whole BU community was really, really awesome."
Budman, a gun control advocate who attended the March for Our Lives in Washington, D.C., said she was frustrated at the fact that gun violence is still a big problem in the United States.
"I was definitely in shock," Budman said. "… but it seems to be this thing that's at arms length away, and then now that it's happened to people that I could have known, it really makes me want to do something. Now."
Gabriella Esparza, a junior in College of Arts and Sciences, said she was shocked upon hearing the news of the shooting, something does not often occur in her home country.
"It's something that I can't really make sense of, honestly," Esparza said. "I'm not from this country, [in] my country this does not happen a lot. So I just can't understand it."
Levin said she wished she were more surprised that the shooting occurred.
"It's terrifying and horrible that this is becoming the norm," Levin said, "and it definitely needs to stop. People need to speak out and up."
DISCLAIMER: Ariel Stein is a columnist for The Daily Free Press.