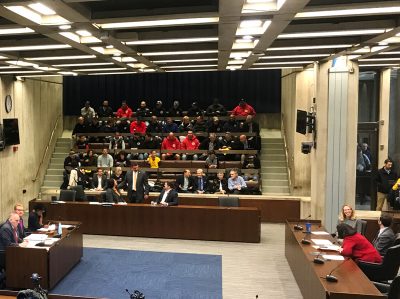 Boston's gas infrastructure is riddled with safety issues, but the organizations in charge of fixing it may not be doing enough to protect their customers — or their workers.
The Boston City Council Committee on Environment, Sustainability and Parks heard testimonies from three expert panels and members of the public Tuesday as part of a hearing to examine the state of the city's gas infrastructure. Gas workers, residents and City officials filled the Council's Christopher A. Iannella Chamber for the majority of an over four-hour hearing.
While the meeting was held to discuss gas utility safety, it was dominated by conversations about how National Grid — a company that provides most of Boston's natural gas energy — has treated its Boston gas laborers.
Over 1,000 gas workers representing two different unions have been "locked out" of work by National Grid since June, District 6 City Councilor and hearing sponsor Matt O'Malley said. The workers are not on strike, he said, but rather, they have been forced out of their jobs as a negotiation tactic by management.
O'Malley said the lockout has compromised gas safety in Boston. Since the gas union workers were shut out in June, he said 51,542 faulty gas mains have failed to be replaced or retired.
"The residents of Boston and across Massachusetts are already frustrated that so many gas leaks go unrepaired," O'Malley said, "and as a result of this lockout, this situation has only gotten worse."
National Grid did not have any representatives at the council meeting. The company did, however, provide a written statement, which O'Malley read to the chamber.
O'Malley and the other city councilors who were present, including City Councilor At-Large Ayanna Pressley, condemned the energy company for not attending the meeting.
"It is insult to injury that National Grid is not here, and it is insult to injury that this lockout is still occurring," Pressley said. "Clearly they are choosing greed over the common good, public health and public safety."
National Grid was not the company responsible for the gas explosions in Merrimack Valley last month, which killed one and injured approximately 25 others. Earlier this month, however, a National Grid technician, who was not a member of the United Steelworkers union, caused overpressurization in a gas main in Woburn that could have led to an explosion.
Following the incident, the Massachusetts Department of Public Utilities ordered National Grid to halt all non-emergency gas repairs. District 2 City Councilor Ed Flynn said what happened in Woburn shows that National Grid is putting public safety in jeopardy by employing non-union technicians who are less skilled than union workers.
Flynn added that he would support using the Council's subpoena power to force National Grid to answer questions about its safety and labor management practices.
The DPU did not have a representative at the hearing, either, though a panel with members of Mayor Martin Walsh's administration gave statements and answered questions about how the DPU has been dealing with recent gas crises.
One of the panelists, the Mayor's Chief of the Streets, Transportation and Sanitation Chris Osgood, said Walsh's administration has been supportive of the DPU because it is holding National Grid accountable.
"We want to do everything we can to support DPU and the other regulatory agencies to make sure that anything that's happening in our Commonwealth and in our city is ensuring high public safety for our residents," Osgood said.
The second panel included a slate of labor leaders and community activists. The third consisted of more activists and an academic expert on gas infrastructure — Boston University Earth and environment professor Nathan Phillips.
After the meeting, O'Malley said, going forward, he and his colleagues will keep the possibility of using the Council's subpoena power on National Grid "at the forefront" of their minds.
"I'm hopeful that we can help in some way to facilitate an end to the lockout," O'Malley said, "and really do more to make sure we can build as safe as humanly possible a city for residents and visitors alike."