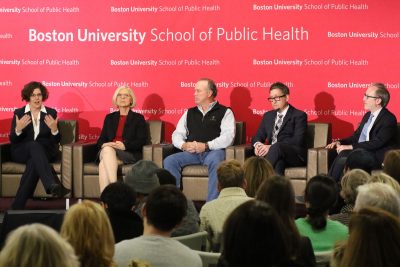 Uncertainty clouds the legalization of recreational marijuana in Massachusetts as the state issued its first final licenses to commercial pot shops in early October. Members of the Boston University community and other university professors addressed questions around the legalization at a forum Thursday in the School of Medicine's Hiebert Lounge.
They discussed the next steps for Boston — and Massachusetts as a whole — following the legalization of marijuana.
Richard Saitz, chair and professor of the Department of Community Health Sciences at the School of Public Health, and other organizers investigated uncertainty surrounding post-legalization in Boston in order to push past the surface-level debate on marijuana.
"It is past time to argue simple questions like, 'Is it good or bad?' or, 'Should we legalize or not?' in the context of legalized marijuana in Massachusetts," Saitz said in an interview. "The questions are more like, 'Then what happens?'"
The forum covered issues including how to regulate and tax THC products, why cannabis should not be available to youth and how the market is reacting to widespread legalization.
In November 2016, Massachusetts citizens voted to make marijuana legal both medically and recreationally for people 21 and over. The law took effect in July, but dispensaries have not been able to legally sell recreational marijuana yet, as they have been waiting for licenses from the government.
Saitz said the scientifically proven effects of marijuana are generally agreed upon, yet disagreement occurs with how to ultimately implement necessary regulations on the cannabis market.
"It doesn't have to be that there's a free for all where you can sell cannabis anywhere and not think about it, but it also does not have to be highly restricted," Saitz said. "It can be something in between that makes sense."
Many attendees were a part of the Boston University community, although there were a few community members who came in hopes of getting a better understanding of the complexities of marijuana legalization.
Karen Johnson, a first-year student in SPH, said she attended the event in order to learn more about the legalization of marijuana and its connection to substance abuse in a wider societal context.
"It's interesting that this is a substance that is both medicinal and recreational," Johnson said. "It was really valuable to have all of the different perspectives because it's a new thing that we're all learning about."
Johnson said she pursued public health to study substances specifically and was grateful for the opportunity to hear from entrepreneurs, policymakers and those who study public health.
Saitz said in an interview that the forum was part of a lectureship honoring former SPH professor Bill Bicknell, who died in 2012.
"Bill Bicknell was a professor that always liked there to be debate," Saitz said. "He wanted people to think not just for the sake of argument, but he thought debate would really clarify issues."
Deborah Hasin, a Columbia University professor and a researcher in public health, studies the effects of substance use on the brain and spoke at the talk alongside Beau Kilmer, co-director of the RAND Drug Policy Research Center.
Kilmer covered the nuance in marijuana policy and why precautions must be taken to ensure cannabis products do not end up in the hands of those they are not intended to serve.
Marisa Silveri, director of the Neurodevelopmental Laboratory on Addictions and Mental Health at McLean Hospital, emphasized the importance of the effects of marijuana on teenage brains when considering how to implement legalization.
"There is something specific about the teenage brain and how unimpaired it is by a lot of things that should concern us," Silveri said. "What we know from science is that if you give an adult and an adolescent the same amount of alcohol based on body weight, teenagers are actually significantly less impaired."
Silveri explained that teenagers are much less likely to feel tired or slur their speech as a result of alcohol, but there are other areas of development which have a concerning susceptibility to substances.
"On the other side of the coin, teens are way more vulnerable to the impact of alcohol on learning and memory," Silveri said.