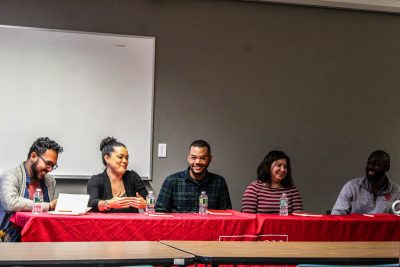 At 19 years old, Kiloni Quiles-Franco felt the burden of obtaining a college degree — as a first-generation college student — on her shoulders. As she navigated the academic and financial challenges of college, she said she felt alone.
"It's really hard to find someone who understands what you're going through," Quiles-Franco said. "I know when I was 19, or their age, the last person I wanted to call were my parents. They don't know what I'm going through. It's like speaking two languages."
Quiles-Franco, a doctorate student in the School of Medicine at Boston University, spoke on the difficulties minorities face in the STEM field at a panel discussion BU Graduate Medical Sciences held at the Photonics Center on Tuesday.
Panelists included master's and doctorate candidate Chinaemere Igwebuike and doctorate students Michael Rosario, Alicia Wooten and Luis Ramirez. The students shared their experiences and advice about the trials they faced as they progressed through academia.
Quiles-Franco said she has noticed the majority of the BU populace holds a sustainable socioeconomic status, which isolates those who are on the lower half of the financial spectrum because they must cope with the burdening cost and face issues with even just applying to college.
When Quiles-Franco was applying to college, she said simple questions such as those on the FAFSA form that others may skim past made her family uncomfortable.
"When I asked my mom and papi to give me financial information, they asked me why [the government] needs that," Quiles-Franco said in an interview. "In my case, it's a socioeconomic stigma — if the government is really not helping us, then why do they need this information?"
However, Quiles-Franco said she did not let her financial status prevent her from pursuing a degree from the University of Massachusetts.
Ramirez said he learned after going through the college process that he didn't need to have a clear-cut path in college to get the career that he wanted, and he wanted to share with students that it's alright to feel lost.
"There was this pressure from being the first-generation college student in my family," Ramirez said in an interview. "My parents made all these sacrifices, so I asked myself whether I should pick something with a risk."
Ramirez said he wanted students to look at him and know that although he found his career eventually, he didn't know his path at first, which was OK.
He explained that minorities face added struggles due to the connection between minority status and identity.
"Dealing with the label and figuring out who you are is tricky," Ramirez said. "When you have to write a personal statement, there's this internal battle about how much you choose to define yourself as a minority because I am more than that."
Quiles-Franco shared how being a part of a minority has affected her outlook. When she goes to an interview, as a woman who is at an age when she could start a family soon, she said she is aware of how those factors affect others' perception of her.
"I'm not lying to you when I say that the main narrative is that you have to choose," Quiles-Franco said. "There are mommy penalties and daddy benefits. Men are treated beneficially, get congratulated or a raise. Women are asked why they were out for so long."
However, Quiles-Franco said she sees progress being made. With persistence, people are fighting biases around issues such as gender and race, according to Quiles-Franco.
Ramirez reminded students that they always have someone to turn to as they face these struggles. He advised to not be afraid to reach out to people and that there are many resources available through university programs, scholarships, professors, advisors and even friends.
"Be relentless and persistent," Ramirez said. "That's what got me through my hardships."
Senila Yasmin, a junior in the College of Arts and Sciences, said that she has faced difficulties as a female STEM student of a minority group.
"We have to do a lot more to be heard and make room for ourselves at the table," Yasmin said. "It's easy for those who have connections through family to use them and get internships and opportunities."
Yasmin also had advice for other underrepresented minority students.
"Don't feel discouraged to pursue a career that makes you happy," she said. "There's going to be obstacles and days where you feel you can't do it, but remind yourselves why you're in this line of work, and if it's for the right reasons, it'll be enough to push past those barriers."
CORRECTION: A previous version of this article misgendered a source and misstated Kiloni Quiles-Franco received a full scholarship from the University of Massachusetts. An updated version reflects this correction.