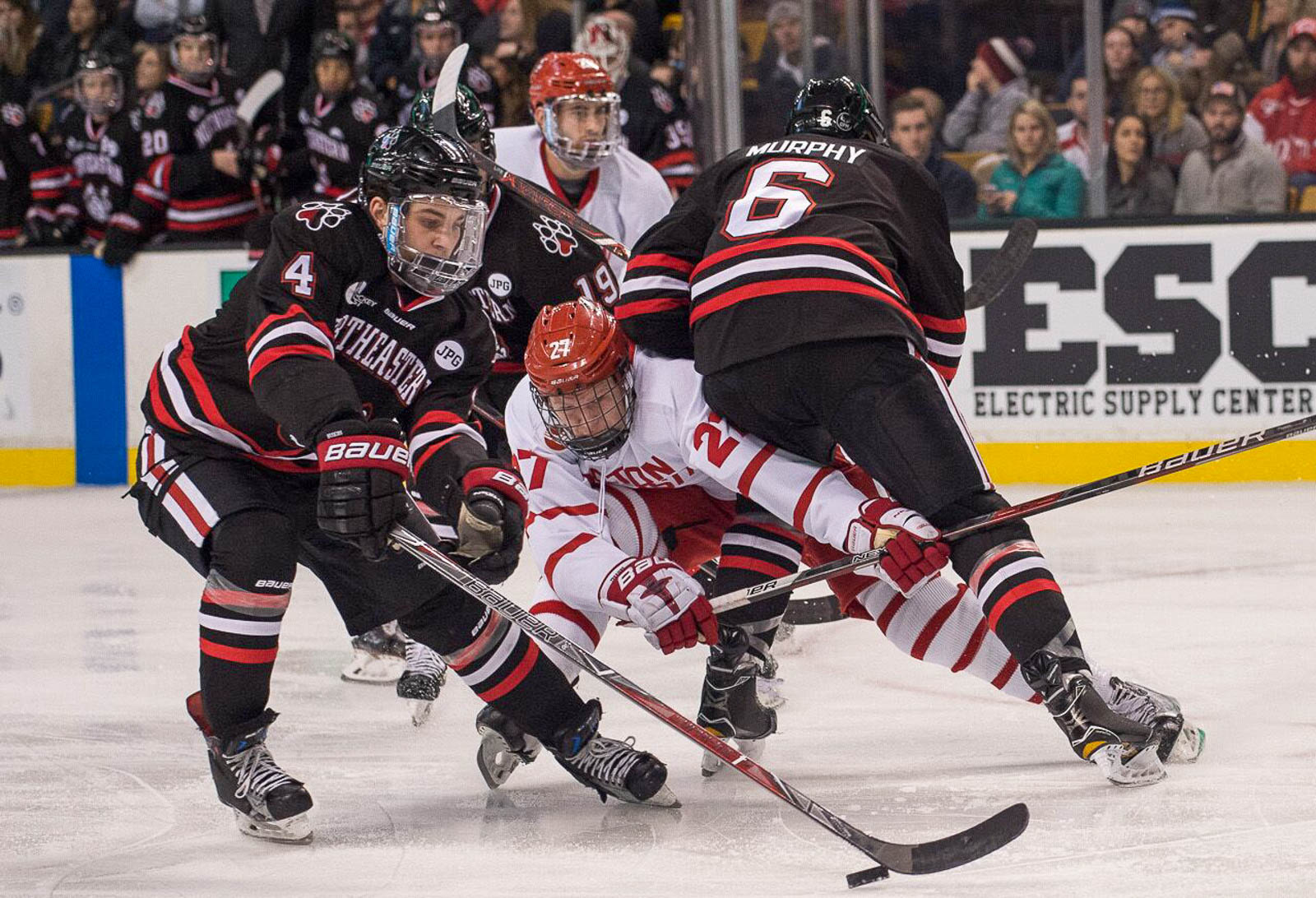 It is rare to be calling a college hockey game a must-win on the first day of November.
However, the Boston University men's hockey team's contest at Northeastern University Thursday night might just fall into that category.
The Terriers (0-4, 0-2 Hockey East) are off to their worst start since 1998–99, receiving just one vote in the USCHO.com poll this week after starting off the season ranked eighth in the country.
BU head coach Albie O'Connell said his focus was on improving the team.
"I think our focus is just trying to get better," O'Connell said. "We're not worried about Northeastern, we're just worried about ourselves right now … We just don't have enough grit in our offensive game, and we don't shoot the puck enough."
After raising the Hockey East Championship banner before the game, the Terriers looked like a different team compared to the one that defeated Providence College in the Hockey East title game at TD Garden in March.
In a 5-0 loss to the Friars (4-1-1, 2-0 Hockey East), BU was outshot 39-18, lost 24 of its 45 faceoffs and went 0-for-4 on the power play.
Junior goaltender Jake Oettinger was pelted with 17 shots each in the final two periods while the Terriers released just 14 shots combined in the last 40 minutes of the contest.
BU enters the fourth weekend of the season in the cellar of the Hockey East.
Northeastern had its way with the Terriers last season: they beat them three times, including a 5-2 victory in the Beanpot final to bring the cup to Huntington Avenue for the first time since 1988.
"It's like any other game for our guys," O'Connell said. "I think right now we're just trying to get better as a group. We had good practices this week, so at the end of the day, they have to execute … I'm very interested to see what our effort level is and how we play."
This Huskies team looks much different than last year's — gone are top scorers Adam Gaudette, Nolan Stevens and Dylan Sikura.
However, this group is still producing points. Despite losing a top forward line in the country, the Huskies are tied for second in scoring in the Hockey East with 3.5 goals per game.
Multiple upperclassmen have stepped up to aid in the transition.
Junior forward Grant Jozefek, who had two assists against BU last year, leads the team with four goals and is tied for the team high with six points.
A couple of Massachusetts products, senior forwards Liam Pecararo and Lincoln Griffin, in addition to junior forward John Picking, have six points as well.
The Huskies still boast an experienced unit, but one freshman, Tyler Madden — a rare Floridian in the Hockey East — is second on the team with three goals as he scored one goal apiece in the team's three opening games.
"I think we just got to worry about playing good team defense, no matter who we play," O'Connell said on countering Northeastern's offense. "Minnesota State is scoring a lot of goals, Providence has scored a lot of goals, too, so I think it's just a matter of us tightening things up and playing the right way."
The Huskies has been stout defensively as well, ranking second in the conference with just two goals allowed per tilt.
This defensive prowess has been supplanted by a couple of mainstays on the back end.
Junior defensemen Ryan Shea and Jeremy Davies held down the group last year and are doing it again this fall. Davies has helped out offensively as well, as he is tied for the team lead in assists.
The Huskies' sophomore goaltender Cayden Primeau has backed the defense even further, whose play BU saw firsthand last season in the Beanpot.
Primeau has a .923 save percentage this autumn after ranking seventh in the nation a season ago with a .931 save percentage in addition to a 1.92 goals against average.
The Terrier defense will benefit from the return of junior defenseman and assistant captain Chad Krys, according to O'Connell.
While O'Connell criticized the team's recent play in special teams, he said he believed Krys adds another level to the team's play despite his recent injury.
"Chad just gives us confidence," O'Connell said. "He's really poised with the puck. He was a little rusty in some areas. As far legs and energy, he's usually able to go the whole game. But that's going to be a work in process when he's coming back from an injury … He gives us a different dimension on the power play. He's been doing it for two years. He's really comfortable and confident, and he allows our groups to have a little bit different dynamic."
Brady Gardner from WTBU contributed to the reporting of this article.