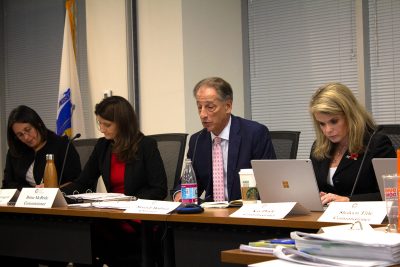 The Cannabis Control Commission held a public meeting in Downtown Boston Thursday to determine approvals of license applications for the cultivation, manufacturing, transport and sale of recreational marijuana.
The commission discussed six final licenses and 11 provisional license applications, with six final licenses actually passing. Applicants are required to undergo extensive review before a full operations notice can be issued.
The Massachusetts Department of Public Health currently oversees the medical marijuana program and registered marijuana dispensaries.
Matt Simon, the New England political director for the Marijuana Policy Project, which focuses on ending marijuana prohibition and decentralizing federal marijuana regulations, said many prospective dispensaries have faced pushback from their prospective communities.
"A lot of businesses trying to get local approval have fought a lot of what they call NIMBYism — not in my backyard," Simon said in an interview. "If you're going to put your business here, you need to pay our town an absorbent amount of money or we don't want you here altogether."
Elizabeth Faria, of Seekonk, said she attended the CCC's public meetings to become more informed of the approval process because she seeks to be the license holder of a family-run retail marijuana shop.
"I'm glad that they're nitpicking and going through every application," the 28-year-old said. "It's only fair to make sure that everybody's complying with all the regulations and codes."
Despite the multi-step procedure, Farin said she was there to "fight the good fight," which is something she said she will continue to do.
Peter Bernard, president and director of the Massachusetts Grower Advocacy Council, which threatened legal action against the CCC for not reviewing contractual clauses in host community agreements, said the process is inherently discriminatory against smaller businesses with less money.
"Big money interest is really bribing the town by going above the law," Bernard said in an interview. "It makes it hard for the smaller companies who don't have the same kind of capital from getting into the market."
Host community agreements, he said, state that no municipality may exact more than a 3 percent community impact fee from any marijuana retail establishment and that the money must be accounted for down to the penny on public record.
Bernard said a loophole is created because the CCC refuses to consider a license application until a host community agreement has been achieved, allowing municipalities to exceed the gross sales cap.
During the meeting, Kyle Potvin, the CCC's director of licensing, said small, women-owned business devised a diversity plan to resolve disparities and provide opportunities for those with past convictions caused by previous prohibition laws.
Christopher Culross, vice president at TC Controls and Services, Inc., said he attended the meeting to network with people in the industry.
"We provide environmental controls for the cultivation space to grow at the most efficient and cost efficient rates," Culross said after the event. "Our greatest challenge right now is finding when these facilities are online and help[ing] these owners and growers in the design process."
Bill Flynn, president of the Massachusetts Cannabis Reform Coalition, said he thinks cannabis should be widely available in the agriculture industry.
"[Cannabis] should be in the farmers market place," Flynn said. "It shouldn't be in retail market stores or dispensaries. It's a viable product as an agricultural commodity."
Flynn said marijuana is an up-and-coming industry in Massachusetts that will incentivize community stakeholders to become active in the economics of business whether through employment or co-ops, Flynn said.
"The Cannabis Control Commission is a complete failure on the taxpayer's hard dime," he said. "My problem is the big boss people with all their money, pushing the little guy aside."