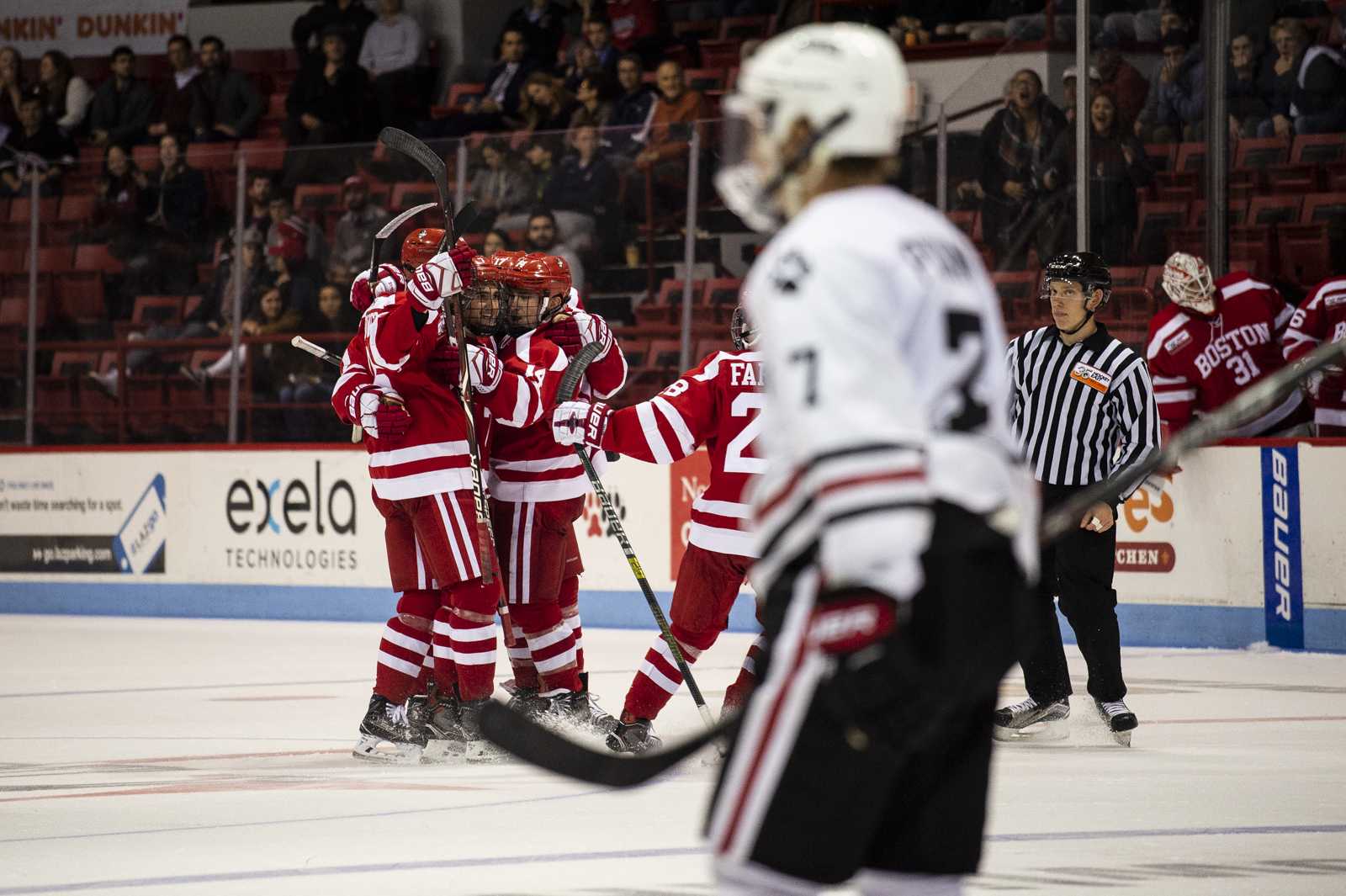 Unlike past seasons, the Boston University men's hockey team does not have a Jack Eichel, Clayton Keller or Brady Tkachuk to put the team on their back and score the majority of the points.
So, if the Terriers (0-4-1, 0-3-1 Hockey East) want to win — or at least tie — they need contributions from everyone.
That is what BU received Thursday night in a 5-5 tie against No. 13 Northeastern University in a hostile environment at Matthews Arena.
Thirteen different Terriers recorded points in a back-and-forth game that featured ties at four different stages in the contest.
"That gets everyone off their feet and really getting going and getting comfortable," senior forward and captain Bobo Carpenter said. "You see the freshmen contributing with the passing and everything. When that is going well, everyone is happy. Usually, it leads to more goals."
Carpenter was tied for the team lead in points Thursday, with a goal and an assist. His goal gave the Terriers their only lead of the contest 4:05 into the third period after he deflected a shot from the point by sophomore defenseman David Farrance.
His assist came on the final goal of the game scored by either side as he found junior defenseman and assistant captain Chad Krys for a ripper from the point on a power play 12:27 into the final frame.
Junior defensemen and captain Dante Fabbro was the only other Terrier with multiple points. He contributed a hockey assist on freshman forward Joel Farabee's goal to tie the game at three at the beginning of the third period and on Krys' equalizer in the latter stages of the same period.
It was a balanced effort for BU.
Sophomore forward Logan Cockerill and junior forward Patrick Curry added goals in addition to the ones notched by Farabee, Carpenter and Krys.
Assists were recorded by sophomore forwards Shane Bowers and Ty Amonte, junior forward Patrick Harper, freshman forward Jake Wise and sophomore defenseman Kasper Kotkansalo.
The Terriers were the aggressors all night.
They outshot the Huskies (4-2-1, 1-0-1 Hockey East) 50-34 for the game. BU held a 15-8 shot advantage in the third period and a 21-15 advantage in the second. They even won the shot battle, 10-8, in a first period in which they were outscored, 2-1.
"We like our team when we shoot the puck," BU head coach Albie O'Connell said. "We shot the puck a lot tonight. One thing we have been focusing on all week in practice is trying to get bodies to the net and trying to get pucks to the net."
The shots came from a variety of sources.
"Our [goal] in the game was to try to get 15 shots a period," O'Connell said. "We did a good job of that in the second period with 21 shots. We've been doing a good job of that."
Bowers led the team with nine while Farabee had seven. Carpenter, Fabbro and sophomore defenseman Cam Crotty had five apiece. Curry netted four while Cockerill, Amonte and Krys each had three.
Cockerill, a draftee of the New York Islanders, recorded 20 points last season.
"For me and [O'Connell], our big point of emphasis is me moving my feet and creating my opportunities off that," Cockerill said. "I was trying to play a game that really wasn't my identity the past couple of games. Kind of got back to keeping it simple, moving my feet and waiting for the chances to come to me."
Cockerill saved the day for the Terriers in the first period. With BU trailing 2-0 and facing a man-down situation, Cockerill took a pass from Bowers and flushed his first goal of the season over the pad of Northeastern sophomore goaltender Cayden Primeau to cut the deficit in half.
"I was surprised at how alone I was," Cockerill said. "I thought there was going to be a 'D' there with me. I saw [Primeau] go down and put his paddle down so I figured I would just go high."