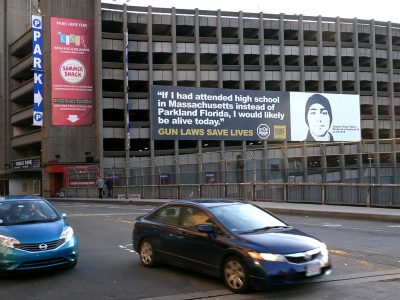 A new billboard designed by the father of a Parkland, Florida, shooting victim was erected Tuesday over the Massachusetts Turnpike to support gun control.
The billboard was designed by Manuel Oliver, the father Joaquin Oliver, one of the 17 victims from February's Parkland school shooting, and was created in conjunction with non-profit organization Change the Ref, the gun control advocacy group Oliver founded, and Stop Handgun Violence, a Massachusetts-based gun control advocacy non-profit organization.
The billboard, located on the corner of Dalton Street and Boylston Street on the side of the Hynes Auditorium Garage, displays a picture of the young Oliver and reads, "'If I had attended high school in Massachusetts instead of Parkland Florida, I would likely be alive today.' Gun laws save lives."
On Thursday, Oliver, his wife Patricia, Change the Ref, Stop Handgun Violence, March for Our Lives Boston, and other gun control advocacy organizations held a billboard unveiling and press conference to speak about the issue of gun violence around the country.
Jack Torres, political director of March for Our Lives Boston, attended the ceremony to draw recognition to the issue of gun violence in the United States.

"It was great to just sort of stand in solidarity with [Manuel and Patricia Oliver] and with their story to show that this is a national effort, and it's not just located in Florida, nor is it just located in Boston," Torres said. "It's a nationwide movement."
Key speakers at the unveiling ceremony included Rep. Joseph Kennedy III, Massachusetts Speaker of the House Robert DeLeo, Stop Handgun Violence founder John Rosenthal and state Secretary of the Health and Human Services Marylou Sudders.

Rosenthal said in an interview he thinks local and state officials in Massachusetts have been supportive of Stop Handgun Violence's work.

"The unveiling was a perfect combination of celebrating our bipartisan success in proving that gun laws save lives," he said.
Rosenthal explained that he began working closely with the Olivers during March for Our Lives Boston's 50 Miles More: Massachusetts march from Worcester to Springfield to protest the production of the AR-15 and similar guns by Smith and Wesson, a gun manufacturer based in Massachusetts.
Rosenthal said he and Oliver decided then that they wanted to work together on a billboard.

He said Oliver came up with the idea for the message on the billboard when he learned of Massachusetts' strict gun control laws and low rate of death by guns.  

"Manuel said, 'You're saying, if we'd come to Massachusetts instead of Florida, my son would likely be alive today?'" Rosenthal said. "I said yes."

Torres said he thought the billboard was powerful because it allowed onlookers to step into the shoes of parents who have been affected by gun violence.

"I think it really showed how much of an impact that even just one billboard can have, especially when you have such a personal story behind the billboard like Manuel and Patricia have," Torres said.

Michael Adams, 27, of Back Bay, said the billboard made an impression on him when he was walking by.

"It definitely makes you stay and look at it," Adams said. "Just putting a face to something like that, like such a tragedy."
Still, Adams, who is a gun owner, said he favors more relaxed gun laws because he believes the personal protection that carrying a weapon provides will save more lives.
Over the past twenty years, Stop Handgun Violence has erected over 20 billboards, Rosenthal said. The first billboard debuted in 1995 and was placed outside Fenway Park over the Massachusetts Turnpike, according to Rosenthal.

Rosenthal said the billboards have been a cornerstone in the organization's public awareness campaign to shed light on gun violence.

"We've changed the debate from the extremes of banning guns or unlimited access to guns to 'How do we reduce access by prohibiting certain people–criminals, the mentally ill, from having guns and hold the industry accountable?'" Rosenthal said.

Rosenthal said he is a gun owner and does not wish to ban the sale of firearms. He said Stop Handgun Violence and other gun control advocacy groups seek to replicate Massachusetts' strict gun control laws in other states.

"We are the NRA's worst nightmare," Rosenthal said, referring to Massachusetts. "We are proof that gun laws save lives."