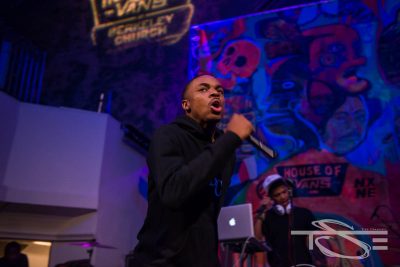 Short albums have become a fad among big hip hop names in 2018, strongly exemplified by Kanye West's G.O.O.D. Music label summer run. Pusha T's "DAYTONA" kick-started his infamous beef with rival Drake.
Additionally, Kanye West released both his solo album "ye" and his Kid Cudi collaboration "KIDS SEE GHOSTS," an album which Anthony Fantano, a music critic, awarded a perfect 10. Each of these albums feature only seven songs and run under 30 minutes in length, yet they've rocked the music world.
Years before this fabled "G.O.O.D. Summer," California's up-and-comer Vince Staples from Ramona Park in North Long Beach, California, was doing the same thing. His seven-track debut "Hell Can Wait" came out in 2014, featuring his first hit single "Blue Suede."
Following it up with his stunning studio album "Summertime '06," Staples proved to the rap world he was a force to be reckoned with. But in 2016, his second short album "Prima Donna" put his credibility into question.
Everything he released until then was fairly original, lyrics and production style combined. But the commonality between each of them were the lyrical themes of gang violence and affiliation with the Crips. He put all critics in their place in 2017 with his mind-blowing sophomore album "Big Fish Theory."
The album's U.K. garage production, courtesy of SOPHIE and Flume, was a gorgeous change of pace. In an era dominated by trap and cloud rap, Staples' incomparably brilliant sound shone through.
But "FM!" is nothing like anything Staples has done before, and not in a good way. Only days ago, Staples announced he would soon release "a very special project," a proclamation that could not be further from the truth. Staples' new album "FM!" was released Thursday and is easily his least original release to date.
The record is presented as a tenuous concept album, one that flows like you're tuned into your local hip hop station, with several interludes delivered in the fashion of radio personalities who introduce many of the tracks.
Not only that, but it's meant to be fast-paced given only two of the 11-song tracklist exceed three minutes in length. There is nothing imposing about it: no complex themes to add to the allure of the record. Just a straightforward, bland idea with nothing to interpret.
It becomes clear that Staples didn't want to release something too transcendent, and from the first track, that becomes clear. His opener "Feels Like Summer" may appease fans with its familiar themes: a cool west coast hip hop beat, more gang-related bars and yet another feature by Ty Dolla $ign.
And yes, there are some provocative lines on the track, most notably, "Cold weather won't stop no gunner / Wrong hat, wrong day, I'd kill my brother." But to other listeners, Staples might sound like any other rapper (minus excessive Pro Tools manipulation on his voice).
Following is the album's highlight "Outside!" Again, the lyrics don't indicate a forward-thinking direction for Staples, but at least he flows well on the beat.
The glaring issue with this album, aside from the vapid production, are the hooks. No other part of this record conveys as much laziness. One of the songs is titled "Run the Bands," and the hook is "Run the bands, run the bands, hey."
Another song is titled "Tweakin'," so the hook is "I'm tweakin', I'm tweakin'." Not even the Kehlani, Jay Rock or Tyga features can make these work.
Perhaps more disappointing is the fact that Vince regressed to his tired lyrical themes. 21 Savage raps about gang life, as did Kendrick Lamar, Freddie Gibbs and Nas. Just because Staples rephrases his ideas on a new beat doesn't convey uniqueness.
If Staples succeeded at anything on "FM!," it was gaining Earl Sweatshirt fans for his anticipated release. Following his father's passing earlier this year, Earl Sweatshirt was quiet about releasing his third studio album that he alluded to in 2017. But with his inclusion on Staples' new record — no matter how short in length — Earl may have thrown his fans a convincing bone.
And for disgruntled fans upset with this rushed, spontaneous release, there is at least hope of a new Staples project, rumored to feature production by Pharrell. So maybe "FM!" isn't as worrying of an omen as expected. Maybe this poor effort from Staples will amplify his return to form.
What can be said about Staples at this point is that "FM!" is an odd piece in his ruthlessly consistent discography. With all his previous releases, Staples exhibited constant improvement, whether that meant taste in beats or lyrical structure.
So if this trend is to continue, this record should be nothing more than a blip on Staples' radar. The eyes of the hip hop world are watching for Staples' magnum opus, because "FM!" is anything but.