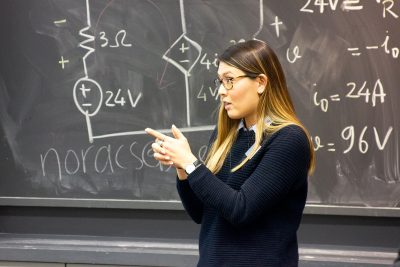 Boston University's Student Government met Monday night to confirm a new director of communications and vote on a $6,000 funding request for the upcoming Spring Concert.
The meeting began with a presentation from 16,000 Strong, a student-run campaign at BU created to foster a movement against sexual assault and violence.
The organization will hold a women's ice hockey tailgate and game Dec. 1 at the Walter Brown Arena, and they asked for the senate's promotion, attendance and support for the event.
The senate then heard from Archelle Thelemaque, appointee for the position of director of communications, which was previously held by Nehemiah Dureus.
Dureus, a senior in the College of Engineering, said that he believes Archelle will do a "wonderful job" as the new communications director.
"She has a background in communications, she literally is in COM, she was a wonderful social media manager," he said. "I think she will take the communications department in a wonderful direction."
Thelemaque said she wants to take what is already great about the department of communications in the senate, such as its social media, and improve upon other aspects. Thelemaque was confirmed by the senate.
SG President Devin Harvin then addressed the senate and requested approval for funding for the upcoming Spring Concert.
Harvin and the executive board have requested $6,250 from the student government's current balance of $48,430.43. According to Harvin, 60 percent of the funds will go to artists hired to perform at the concert and 40 percent will go to event production.
Senators pushed for a more comprehensive breakdown of the funding, and an amendment was proposed by College of Fine Arts Sen. Daniel Collins to amend the request for funding under the condition that the E-board explains exactly what the money is going to go toward as soon as possible. The amendment was approved.
Senators then voted to approve the amended funding request.
Hector Meneses, vice president of finance, said that although contention surrounded the funding request, he was happy that the senators ultimately decided to invest in the Spring Concert.
"It's very difficult to disclose that information because it's very private, and any information we do disclose could jeopardize the project," Meneses said. "It's something that I hope the students understand and are patient with us. Sometime in the future, we will disclose the information when the approval gets through."
Senate Chair Andrew Chiao said he understands why senators might express skepticism over the allocation.
"An event of this size has not been done at the university in a while," he said. "This is the first time an amendment to the constitution has required an E-board cabinet to come to us. That's why people were concerned. It is a lot of money."
SG cabinet departments heads, who are required to attend three SG meetings per semester, then presented brief updates to the senate about their work thus far in the semester.
Chief of Staff to the President Tom Batson and Events Director Suzie O'Michael both spoke about Spring Concert planning and fundraising. O'Michael encouraged senators to speak out and make suggestions for the Spring Concert.
Grace Li, director of environmental affairs, spoke about upcoming sustainability and environmental awareness events on campus. SG Environmental Affairs is planning to host a screening of the movie Chasing Coral, she said, at which a professor and doctoral candidate will discuss how students can get involved in ocean cleanup.
City Affairs Director Sarah Paco, a senior in the College of Arts and Sciences, discussed an upcoming event called '10-10-10' that will happen in April. The event will allow students across campus to get out of class for 10 minutes in order to attend short workshops set up across campus.
"We want a movement that a lot of students can get behind, that they are passionate about, and that they will be willing to go out and participate in," Paco said.
Lexi Matthews contributed reporting.