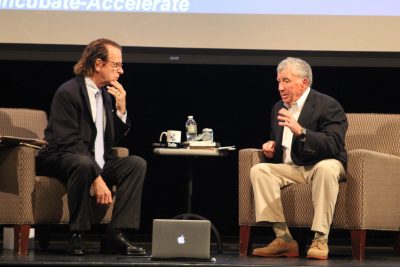 Tucked in fridges in the George Sherman Union and nearby Star Markets, SoBe waters and teas offer consumers a variety of flavored beverages. Behind the label lies the company's history that can all be traced back to founder John Bello, a Tufts University alumnus.
Bello, who founded the company in 1995, visited to his alma mater Friday evening to speak about his career in front of a packed campus auditorium. Sharing skills and wisdom garnered through his life, Bello discussed everything from his time working at the NFL to his time as an undergraduate at Tufts.
Audience members were given the opportunity to ask questions toward the end of the two-hour event, and refreshments from soft drink company Reed's Inc. were provided. Jack Derby, a professor of entrepreneurship at the Gordon Institute at Tufts, moderated the discussion, where Bello was energetic as he discussed his lifetime of accomplishments.
"Everything in life is an accumulation of experience," Bello said. "I think good judgement comes from experience, but experience really comes from bad judgement or the mistakes you made."
Bello earned an MBA from the Tuck School of Business at Dartmouth College. His career included time as president of NFL Properties and as the founder and chief executive officer of SoBe.
"The success I've had in life is more about putting together teams," Bello said. "You have to abandon yourself to other people's strengths, and you've got to recognize that you can't do everything and you don't know everything."
Bello summed up his advice to audience members in three points: read, travel and network. Toward the end of the event, Bello showed and discussed some books he has read with the audience and encouraged others to read them as well.
He also warned attendees that businesses often fail when people become stuck in their own worlds and lose perspective.
"They are unwilling to listen, and listening is very important to what the marketplace is selling," Bello said. "Either you make those adjustments and go forward, or typically you will fail."  
Following the event, Derby said he thought the most important takeaway from Bello's words was his emphasis on connections.
"Connections is something I personally believe in," Derby said. "I believe in it at Tufts, and I believe in it in my life. … Life is all about connections, entrepreneurship as well."
Derby referenced that Bello mentioned connections he made from Tufts during the talk and how these relationships helped care for him as he entered his career. Derby said that he was "off the charts very excited" about the insight he gained from Bello's talk.
Cindy Jin, 32, from Charlotte, North Carolina, was also very excited about the insight and knowledge she got from the talk, she said, and was in Boston visiting someone and saw the details for the talk online. Jin said that while she didn't know much about Bello, she chose to attend.
"I'm very entrepreneurial, and I want to see what his secret sauce is," Jin said.
Mikayla Rose, a junior at Tufts and an intern working with the Tufts Entrepreneurship Center, said she was grateful for opportunities such as this talk.
"It's a really great opportunity to highlight some pretty incredible people that have come out of Tufts and inspire the student body to create and innovate as much as they can," Rose said. "It's an empowering experience for the students to see what can really come out of pursuing your dream, pursuing whatever venture you might be interested in."
Rose said she walked away from the talk with a new perspective and the importance of connections.
"It's also a great opportunity for connecting alumni to the current student body because it's those interpersonal connections that can really make you successful," Rose said. "You can learn a lot about not only the entrepreneurial spirit, but also some of the tactile skills of how to make some things succeed."