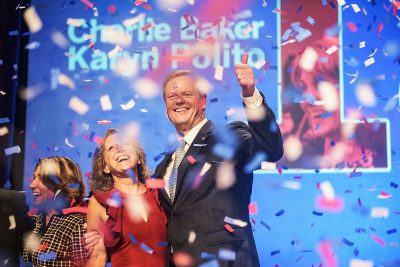 By Joel Lau and Kylie McDaneld
Incumbent republican Gov. Charlie Baker defeated Democratic opponent Jay Gonzalez in a landslide victory in Tuesday's midterm election.
Baker won 67 percent of the vote, more than doubling Gonzalez's 33 percent, according to The New York Times at around 3:00 a.m..
In his victory speech at Hynes Convention Center Tuesday night, Baker said the voters chose him because of his continued commitment to "fiscal discipline" and his "reform-minded approach to governing." He pledged to continue serving Massachusetts throughout his second term.
"Today, the voters have spoken," Baker said. "They like what we are doing, and they appreciate the way we work. So here's the good news — that collaborative, purposeful and humble approach to governing is exactly what you are going to get from us and from our team for the next four years."
Baker also thanked the people of Massachusetts for keeping him focused on solving the issues that matter the most, instead of the negativity that plagues modern politics.
In his concession speech, Gonzalez acknowledged Baker's bipartisanship.
"In a time of divisiveness and incivility in our national politics," Gonzalez said in his speech, "Governor Baker also deserves credit and thanks for the civil, respectful and collaborative approach he has taken to government."
Lt. Gov. Karyn Polito, Baker's running mate, also addressed the crowd and promised that she and Baker will offer support every day over the next four years to communities in need.
"We stand with each of you every day," Polito said in her speech, "to work with you every day to make this Commonwealth even stronger, to make our future brighter."
Baker and Polito pledged to continue the work they have been pursuing in their last term and to work even harder for the benefit of all Massachusetts residents.
"If you like what you've been seeing over the last four years," Polito said, "well, you ain't seen nothing yet."
Although Polito said she believes the country has suffered from a harmful divide, she insisted that the divide has not affected Massachusetts.
"We're unified because of a common love of Massachusetts and a shared belief that working together, our opportunities are limitless," she said. "We see unity."
Lawrence Mayor Dan Rivera, a Democrat, supported Baker and Polito's re-election in his speech.
"In a day and age where our country stood divided," Rivera said in his speech, "I'm going to tell you that Massachusetts has stood apart because of leaders like Charlie and Karyn."
Canton resident Joe Paru, 28, said he was disappointed by the Republican party's performance in other elections, but was pleased with the results of the gubernatorial race because of Baker's commitment to bipartisanship and protecting America's veterans.
"He's done a lot for our veterans, especially our homeless veterans, and for too long, they have been overlooked," Paru said. "He has provided housing for veterans, helped them get off the streets, and his overall bipartisanship has been inspiring in such a climate that's so divisive and hostile."
Massachusetts Teenage Republicans Vice Chairman Sam Garber said he was confident before the election results came in that Baker would win easily because of the approval ratings Baker earned throughout his first term.
"This is the most energy that I could remember for a midterm election in a long time, and I'm confident that the energy's on our side," Garber said. "Honestly, there's no way that you can really improve a campaign like this."
Michaela Arguin, 20, of East Freetown, said she thinks Baker and Polito have been a "bipartisanship pair" and that they have an attitude other politicians should aspire to.  
"[They are] definitely pushing Boston in the right direction," Arguin said. "I think they'll [continue] making it even stronger, and I definitely think that [voters] made the right choice."