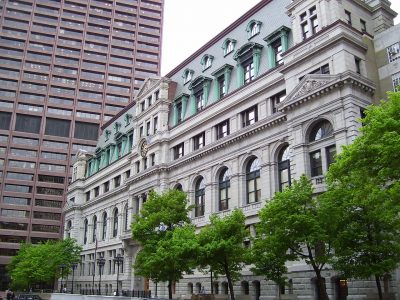 The Massachusetts Supreme Judicial Court will hear a case Thursday regarding a Massachusetts law that states that if a defendant dies while appealing their conviction, the conviction is vacated or forgiven.
Bristol County District Attorney Thomas Quinn has challenged the Massachusetts Supreme Judicial Court to end the practice, referred to legally as the "doctrine of abatement."
The challenge comes in the wake of the absolution of Aaron Hernandez's conviction for the 2013 murder of Odin Lloyd after Hernandez committed suicide in April 2017. Hernandez was serving a life sentence and was in the process of appealing his conviction at the time.
Attorney General Maura Healey and the Massachusetts Victim and Witness Assistance Board have filed amicus briefs in support of the district attorney.
The brief, filed by Healey's office, urges the court to modify the common law so that, in the case of a deceased defendant, his or her family can take the defendant's place in trial and argue on their behalf.
The document urged the court "to adopt a procedure by which the representative of a deceased defendant may substitute for him and prosecute his direct, of-right appeal to conclusion."
Those who support getting rid of the practice of abatement say that acquitting a convict of their charges solely because they die is unfair to victims and, according to Healey's office, is not in the interest of justice.
"Of the available options, a "substitution" procedure best serves the interests of justice by neutrally serving the many stakeholders who may have an interest in the fate of a given conviction," Healey's brief stated. "Further, substitution is practical: It is consistent with existing appellate civil procedure and does not require the judiciary to indulge endless or academic appeals."
However, Rosanna Cavallaro, a professor of law at Suffolk University, said she thinks abatement is an important legal doctrine because it ensures that defendants are not stripped of their legal rights after death.
Abatement, Cavallaro said, means the defendant in a criminal case gets a grouping of safeguards before their liberties are taken away.
"They get all kinds of things: the right to counsel, the right to a jury, all that important stuff," Cavallaro said. "They also, in some states, nearly every state, get a right to at least one appeal, and the idea of abatement is that if they didn't get that, they didn't get the whole package, and so the conviction is not sound and cannot survive."
Sometimes, Cavallaro said, the doctrine is challenged because people become upset that convictions from high-profile cases, such as with Aaron Hernandez, are dropped.
"People are upset, and they say that justice is not being done and the victims are being ignored," she explained. "That's an understandable complaint, but it's usually a bad idea to change a rule based on the results of one case that you happen not to like."
Cavallaro said the suggestion of replacing abatement with a substitution process is "foolish."
"Criminal law operates on the individual, on the person of the accused," she said. "It doesn't operate on the family or the team members or the friends or the community. It operates on that one person."
Jack Aylmer, 21, of Fenway, said he believes convictions should be dropped after a defendant's death.
"That's a tough situation because you have a position where [Aaron Hernandez] had a ton of money that was due to him, and removing that conviction brings that money to his family," Aylmer said. "In some instances, I think it can be good. In other instances, it's tough to figure out."
Malden resident Kathy Maio, 67, disagreed and said that just because someone has died, does not mean their crimes should be erased.
"I think that [abatement] is probably a bad idea because, if Aaron Hernandez committed a murder, it should stay on the books," Maio said. "I get the point that there could be an appeal, and it might have been overturned on an appeal, but if, at the point where he died he was convicted of murder, I would say he is convicted of a murder."
Dorchester resident Rick Parker said he did think having a conviction forgiven was the same things as having a chance to appeal.
"This all came about because of the Aaron Hernandez thing," the 55-year-old said. "You're losing your chance to appeal, but you were already convicted. I would tend to say I disagree with that rule just because of the fact that you were already convicted, and it's almost an assumption that the verdict would be overturned were the appeal to take place."