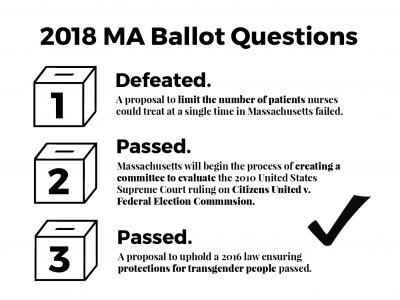 By Jennifer Suryadjaja, Damian Walsh, Joe Lau, Haley Lerner and Samantha Day
Massachusetts residents voted on three ballot measures in Tuesday's midterm election, rejecting a proposition to limit the ratio of nurses to patients and approving propositions having to do with limiting political spending and protecting the rights of transgender people in the Commonwealth.
QUESTION 1
Massachusetts residents voted against Ballot Question 1, which would have placed an official limit on the number of patients that nurses could see at one time.
Since the proposition was voted down, Massachusetts will maintain its current healthcare system and allow hospitals to independently assign nurses to patients without imposing a limit.
If the measure were to have passed, Massachusetts hospitals could have faced fines of up to $25,000 per incident for exceeding the proposed nurse-to-patient ratio. Patients might have also faced longer wait times.
Supporters of Question 1 said the limit was designed to increase patient safety. By allowing nurses to spend more time with each patient, they hoped to reduce the number of medical errors made in hospitals.
Donna Kelly-Williams, president of the Massachusetts Nurses Association, said in a concession speech that the organization was disappointed by the results.
"These frontline nurses have given everything to advocate for patient safety, fighting to make sure that our patients receive the highest quality care," Kelly-Williams said. "All patients deserve a safe standard of nursing care, and this advocacy, this fight, won't be over until we achieve the equity that all patients deserve."
Organizations that supported the "No on 1" campaign did not immediately respond to requests for comment.
QUESTION 2
Massachusetts residents voted to enact Ballot Question 2, which officially establishes the Commonwealth's support to begin the process of overturning a 2010 Supreme Court decision protecting political spending as a form of free speech.
In a controversial case, Citizens United v. Federal Election Commission, the Supreme Court ruled to remove governmental restrictions on campaign donations to politicians and independent expenditures.
Voting "no" would have left the law as it was under previous statute and Supreme Court precedent, allowing political action committees and unions to hold the sway given to them under Citizens United v. FEC.
While the ballot question does not directly mention the Citizens United verdict, David Ropeik, chairman of the communications and outreach committee for People Govern, Not Money, the "Yes on 2" campaign, said the vote would be one of the first steps in reversing the ruling.
Ropiek said the "Yes on 2" campaign gained cross-partisan support from prominent politicians in Massachusetts, such as Sen. Elizabeth Warren and Gov. Charlie Baker.
"It's exciting for us here in Massachusetts to be the first state to create a formal commission to move this idea forward," Ropeik said. "We hope that this model is something that other states choose to emulate as we build toward 38 states ratifying an amendment."
Nineteen states, including Massachusetts, have called on Congress to overturn Citizens United.
QUESTION 3
Massachusetts voted "yes" on Ballot Question 3, which affirmed a 2016 transgender rights bill allowing transgender people to use the bathrooms and locker rooms that correspond with their gender identity.
The "No on 3" campaign called for the repeal of the law on the grounds that it eliminates the right to privacy in public restrooms and "puts women's safety at risk," according to the campaign's website.
Kasey Suffredini, "Yes on 3" campaign co-chair and president of strategy at Freedom for All Americans, said in a press release that Tuesday's vote in favor of the proposition proves that protecting the rights of transgender people does not put anyone outside of that community in danger.
"Winning this popular vote is irrefutable proof that public support for transgender people is growing," Suffredini said, "and tonight's outcome will provide the necessary momentum to change the landscape on transgender rights everywhere."
Natalie Patrick contributed to the reporting of this story.