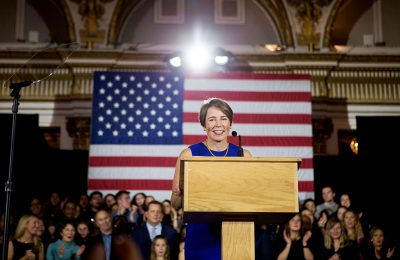 Democrat Maura Healey was re-elected as the Massachusetts attorney general Tuesday night, positioning her to lead the state as the top law enforcement agent for the next four years.
Healey, who bills herself as "the people's lawyer," trounced Republican Jay McMahon, a trial attorney from Bourne, in one of the state's more decisive midterm races.
She joined the rest of the Massachusetts Democratic candidates — including Sen. Elizabeth Warren, Rep. Ayanna Pressley, Suffolk County District Attorney Rachael Rollins and gubernatorial candidate Jay Gonzalez — at the Fairmont Copley Plaza on election night to celebrate her win.
"In this second term, I will wake up every morning ready to fight as hard as I can," Healey said to the crowd of supporters. "This was a test of our values, our democracy … and we have work to do."
Healey defeated McMahon 69.8 to 30.2 percent, according to The New York Times (at around 2:30 a.m.), and the crowd erupted into cheers as she took the stage.
"Maura Healey is in the exact right place to do things for us," said Valerie Gumes, 66, of Roxbury. "If you call her office, you get an answer. Maybe she can be the second woman president, right after Elizabeth Warren."
McMahon, Healey's opponent, who has a law degree from Suffolk University and served in the Army National Guard, spent the last several months advocating against gun control.
He also supported more comprehensive treatment plans for opioid addicts, maximum sentencing for drug dealers and President Donald Trump's travel ban, which prevented people from several predominantly Muslim countries from entering the United States.
Meanwhile, Healey, a New Hampshire native, spent her first term as attorney general pushing for more gun restrictions — including a ban on copycat assault weapons earlier this year — and battling against businesses and for-profit schools to recover money for taxpayers and students.
In the last four years, she has sued or taken legal action against the president more than 30 times.
Lily Garber, a junior in Boston University's College of Arts and Sciences, said she was proud to stand behind strong female candidates.
"We're so excited that women like Warren and Healey are strong, and they're not backing down," Garber said. "That's really important right now — staying persistent."
In an October debate against McMahon, Healey also declared that addressing the state's opioid epidemic was her top priority, though her opponent vehemently disagreed, accusing her of being soft on crime.
Healey was first elected as the state's top legal advisor in 2014, making history as the first openly gay attorney general in the United States. Prior to her run for political office, she worked in the Massachusetts attorney general's office for seven years, according to her campaign website.
Healey graduated from Harvard College in 1992 and spent two years playing professional basketball in Austria before returning to Massachusetts to receive her law degree from Northeastern University.
By the end of the night, attendees at the Massachusetts Democrats' celebration, including Kassie Seavy, a senior at Boston College who volunteered for Healey's campaign this past weekend, said they were ready to continue fighting.
"I'm so exhausted, but so excited at the same time," Seavy said. "It was so inspiring to see all the different women on stage tonight."
Victor Guillen, 50, of Mission Hill, also said he was happy to see the majority of the state's female candidates go home with victories.
"If Massachusetts wants to be a real Democratic force, we need to elect all women running the show," Guillen said. "You'll notice the difference immediately."