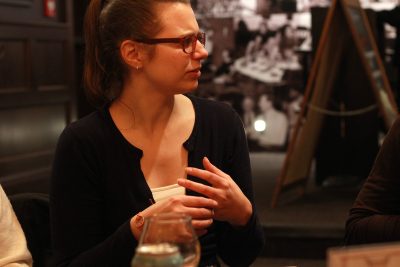 Pockets of laughter erupted throughout Fuller's BU Pub Monday night as a small congregation of graduate students and upperclassmen shared nachos and drinks. Between their moments of laughter and sips of beer, they engaged in conversations about faith and politics.
A little less than five years ago, "Religion on Tap" began in what was once the Boston University Pub. The social gathering met monthly until it's yearlong hiatus in 2017 due to the Pub's closing for reconstruction. It commenced again on Monday night in Fuller's Pub — formerly the BU Pub — tackling the question of how faith shapes politics.
"The main idea is just to have an opportunity for graduate students from different faith backgrounds to be able to have an interreligious conversation that is more about their faith and how that's lived out in the world," said Jessica Chicka, BU's chaplain for international students.
Chicka said she hoped the conversation inspired students to explore what "their faith means to them on issues that are present in the world."
Each meeting focuses on a topic and is open to all BU students 21 and over. Students at Monday's talk shared personal experiences and opinions and were encouraged to avoid generalized statements.
They discussed matters ranging from voting rights to what it categorizes something as "political." Moments of laughter and of silence ensued throughout the session.
"[Through] these sorts of conversations, they begin to form [a] of sense of community," Chicka said. "They're able to share ideas in a way that helps them understand another person's view of how their faith informs what they do."
Before each session, the facilitators establish boundaries to ensure respectful conversation on typically controversial topics and emphasized the objective to discuss ideas rather than people. On this particular night, the focus was on faith and politics.
"Faith and politics are pretty much what's on my mind most of the time, because I study it," Jaira Koh, a graduate student in the School of Theology, said. "But, it's also true that I'm studying it because it's on my mind most of the time."
While the subject is planned ahead of time along with conversation starters, there is a fluidity to it. This allows for attendees to share in a casual setting and expand on what they wish.
"Hearing students bounce [ideas] off of each other, relate to other's experiences and look at an issue from another person's perspective I think are really valuable things that happen in this circumstance," Chicka said.
Monday evening had one of the largest turnouts for the discussion, Chicka said. Twelve students, most in graduate school, bought a drink and joined in. According to Chicka, the numbers tend to fluctuate depending on the time of year.
"I think last night was a good size because we could all be part of the conversation," Chicka said.
Chicka explained that if numbers increase, they'll adjust. After all, she said they want to include students of all backgrounds and perspectives at the table. One of the main hopes with the event is to see an increase in diversity among the attendees.
"[It's a] growing community, both in numbers and in backgrounds," said Elie Lehmann, BU's campus rabbi.
Lehmann and Chicka were the main facilitators of the event and provided snacks and discussion points for the duration of Religion on Tap. They will host one more before winter break on Dec. 3, Chicka said, and the topic is yet to be decided, but the location will be in the traditional spot at Fuller's Pub.
According to Chicka, students are welcomed to submit ideas for the upcoming discussion. In the past, Chicka, Lehmann and other Marsh Chapel staff members decided the focus, but they now want to open it up to the student body, Chicka said.
Chicka said she hopes to encourage students to share their beliefs and backgrounds and how that shapes and influences their actions.
"It's important for us to think about faith as something more than going to church on Sunday or attending synagogue on Friday night," Chicka said. "I don't see what the point of faith is if you can't apply it to what you do in your life."