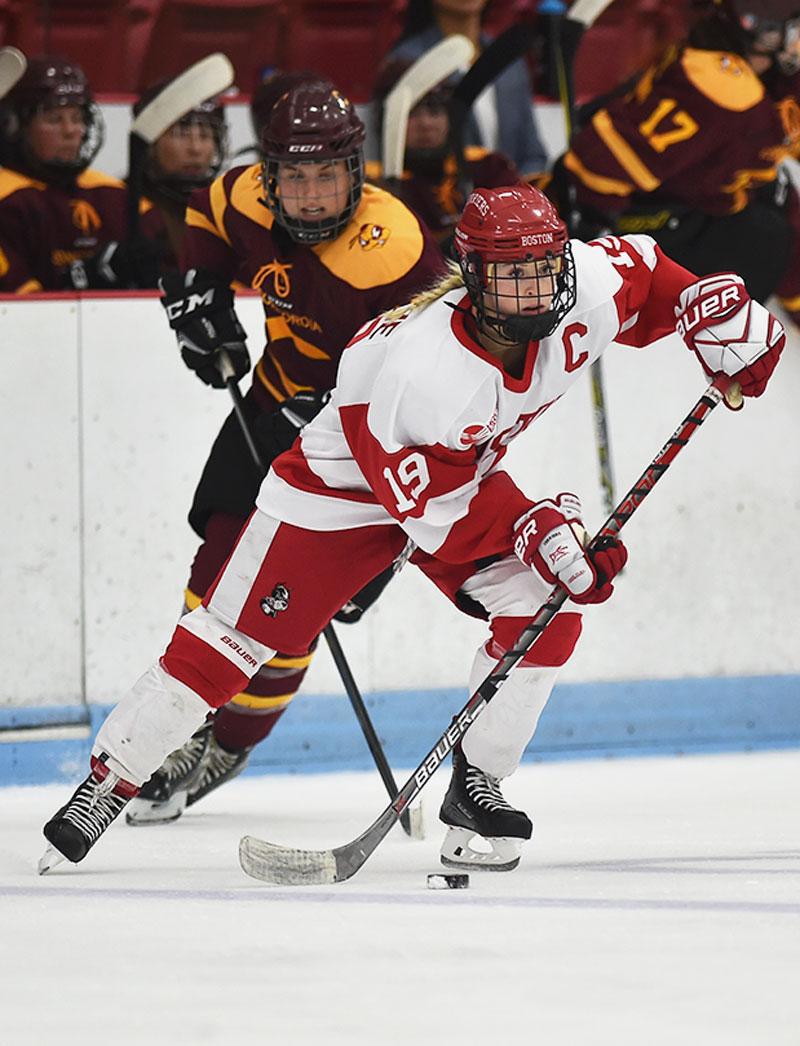 After an 11-day break from play, the Boston University women's ice hockey team will return to the ice Friday night against the University of Connecticut in the Mark Edward Freitas Ice Forum.
It will be the second time the two Hockey East rivals will face off this season after the Terriers (1-3-3, 1-3-3 Hockey East) held UConn (5-4-1, 2-3-1 Hockey East) to a 1-1 tie Oct. 19 in front of a home crowd.
BU head coach Brian Durocher said that he anticipates a well-structured team under Husky head coach Chris MacKenzie, who became the program's second-ever head coach in 2013.
"They're always a really well-coached team," Durocher said. "Since Chris MacKenzie's been there, he's done a real good job structuring the team. This is a little more talented team offensively than they've had in the past."
Last season, the Terriers went 1-0-2 against UConn, including a 6-2 win in their first match-up where then-senior forward and captain Rebecca Leslie scored her second career hat trick.
The Huskies sat at the bottom of Hockey East rankings by late January. In March, the team upset the top-seeded Boston College 4-2 in the Hockey East semifinals to make its first championship appearance since 2009-10.
Currently, UConn, BU and the University of Vermont are tied for sixth in the conference with five points apiece.
Since last facing the Terriers, the Huskies have gone 1-3 including two Hockey East losses against Merrimack College and Boston College.
The Oct. 20 1-3 loss against Merrimack (7-1-2, 4-1-1 Hockey East) was UConn's most recent home game, preceding a three-game road series that ended with a 0-3 loss against No. 5 BC (8-3, 5-1 Hockey East).
A 7-0 win against Union College highlighted the trip. Five Huskies produced multiple points throughout the match, led by a hat trick from sophomore forward Savannah Bouzide.
UConn's sophomore class also holds defenseman Taylor Wabick, forward Morgan Wabick and forward Natalie Snodgrass,who all rank within the team's top five in points.
Snodgrass leads the pack with 11 points, nine of which have come off of assists.
In her freshman year, the native of Eagan, Minnesota, led the Huskies in shots on goal, goals and points. The last time a first-year player led UConn in points was in the 2011-2012 season, when Natalie's sister Emily Snodgrass first joined the team.
"One kid you got to pay special attention to is probably Natalie Snodgrass," Durocher said. "She's a very good player, a kid who was an All Rookie-type player last year. She's a kid we got to know when she's on the ice."
Durocher said the Huskies' goalkeepers were a strong suit for the team.
Last season, UConn was backed by then-senior goaltender Annie Belanger, who was named the Hockey East Goaltender of the Year and a First Team All-Star after taking her place at the top of the Huskies' career save percentage leaderboard.
In her final year of NCAA competition, Belanger led Hockey East with a .938 save percentage and 1.84 goals against average.
UConn has since turned to junior goalkeeper Morgan Fisher as its main starter.
Over the course of her first two years as a Husky, Fisher made 14 starts for a record of 6-5-3. Nine of these starts came in her sophomore season, where she put up a .933 save percentage and 1.86 goals against average.
In her eight starts this season, Fisher has allowed 16 goals against while maintaining a .930 save percentage.
Fisher was in net for the Oct. 19 tie against BU, during which she held off 40 shots on net.
"This year, [Fisher] has potential," Durocher said, "but she's a little bit younger, and there's been a whisper of erratic play. But without a doubt, this is a solid, well-coached team."
Durocher said the Terrier team has been focusing on its special teams in practice over the break.
While Durocher said he believes that the team is performing well in regular play, it has been lagging offensively in part due to its inability to convert while playing a with an extra skater on the ice.
Currently, BU is ranked third worst on the power play having converted on one of 21 opportunities, and second worst on the penalty kill after allowing 18 goals while shorthanded.
At the bottom of both categories is the College of the Holy Cross, a program that is in its first season of Hockey East play.
"I feel like the kids have been playing well five-on-five, they've been competing fairly well," Durocher said. "We haven't been scoring goals, but part of that is the power play. If we get three or four or five more goals on the power play, that wouldn't be asking a lot and we'd be looking at some different results."